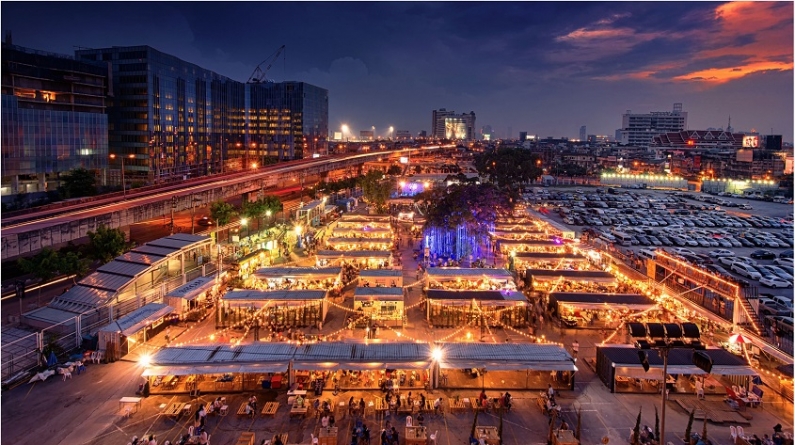 Artbox Singapore – Thai Renowned Creative Market On Asia Tour
Bangkok's renowned creative market from Thailand is on an Asia Tour and its first stop will be Singapore! Spanning across two weekends from 14 – 16 April and 21 – 23 April, Artbox Singapore is set to be Singapore's first and largest creative market featuring more than 500 regional vendors and partners. Artbox Singapore will take over 50,000 square feet of Marina Bayfront with an expected turn out of over 400,000 visitors across two weekends. The vendor line up will differ for each weekend to provide a wide selection of options.
While retaining signature features from its Thai origins, Artbox Singapore will incorporate familiar local elements to create a mash-up that showcases the soul of a unique Singaporean night market. Styled similarly as an exhibition, on each weekend, you can look forward to the following experience.
1. Amazing Retail Therapy 
Shop till you drop at more than 300 booths each weekend featuring Thailand and Singapore fashion, creative and lifestyle vendors across a different lineup each weekend. You get to purchase limited edition Artbox Singapore merchandise ranging from tote bags, water bottles, caps and more at Artbox black container store.
2. Food & Street Snacks Galore
Come indulge in gastronomic bites from 128 F&B stalls each weekend in dedicated dining and chill out spaces spanning over 7,000 square feet. At the Dining Zone, you will experience dining on wooden pallets, artificial turf with beach umbrellas. The Chill Out Area is filled with freestanding hammocks and designer outdoor furniture. Many of these furniture will be provided by supporting partners, Airmocks and HipVan. Chang Beer, Thailand's world-renowned laager, will have a dedicated beer garden at the event.   
3. Sight & Sounds
Swing to live music performances from local musicians as they serenade your night away under the signature fairy lights of Artbox Singapore. Besides the chance to showcase your singing talent during the open mic sessions, you also get to immerse in Thai cultural activities such as dance performances and cultural music performances at Artbox Singapore and snap an Instagram-worthy shot with a fleet of vintage cars and kombis at the Kombi Rocks photo booth.
"As a creator of innovative retail spaces, Invade is invested in bringing the perfect creative night market to Singapore. We see the potential in the concept of Artbox to scale and localise. With Artbox Singapore, I envision a mash-up of a Thai night market and our local creative pop-up market – good vibes, entertainment, food and shopping featuring creative entrepreneurs in the heart of the city. Singapore is also the first stop of the Artbox Asia Tour that aims to bring the best of Artbox Thailand to the region while ensuring each installation is customised with a local flavour," said Haoming Lee, Co-founder, Artbox Asia.   
Drawing on lessons from previous retail concepts and learnings from parent company, iFashion Group, the first edition of Artbox Singapore will host an eclectic mix of regional vendors, partners and sponsors across various product categories. Artbox Singapore will also support creative entrepreneurs – shop originals from makers, enjoy music by local musicians while feasting on gastronomic bites from a range of restaurateurs. Artbox Singapore will accept contactless and cashless payments with the support of title sponsor, DBS, and official payment partner, NETS.
Artbox Singapore takes place on 14-16 and 21-23 April 2017, from 3pm-11pm. The event will be held at Bayfront Event Space, next to the Shoppes at Marina Bay Sands, and is easily accessible from Bayfront MRT station.
The next tentative location for the Artbox Asia Tour is set for Taipei. Interested partners are encouraged to reach out to Invade Industry at hello@invade.co or visit http://invade.co for more information.