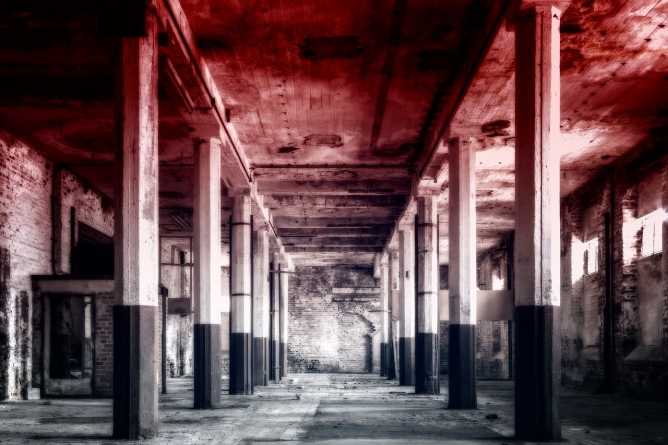 Asia's Most Haunted Hotels – Stays Not For The Faint-Hearted
Do you have a thirst for the world of supernatural? If you do, you will probably find our list of Asia's most haunted hotels exciting and worth a stay. However, these hotel stays are not for the faint-hearted. If you would very much prefer an uneventful stay in Asia, we recommend you give all the hotels stated in our article below a miss. Why risk spoiling your Asia vacation over spooky encounters? Do note that we did not single out these hotels on our own. This information is gathered through numerous websites, forums and guest reviews on the world wide web.
1. Raintr33 Hotel, Singapore
The hotel is situated right beside the former shabby and deserted Changi hospital building that used to be occupied by the Japanese Army during World War II. It was believed that the Japanese utilised this area to torment and persecute their Prisoners of Wars. From then on, there were numerous reports of errie strange noises, whispers and screams heard within the halls. Not the best place to stay unless you want to use it as your base to explore the abandon Changi Hospital Building.
2. First World Hotel, Genting Highlands, Malaysia
Genting Highlands is reputed to be one of the most haunted hotels in Malaysia. Given that it is a casino resort, a lot of gambling-related suicides have happened over the years and numerous paranormal sightings have since been reported at the hotel.
Some guests claimed that they can hear eerie sounds in the middle of the night and saw the appearance of unsettled spirits. Some locals even claim that some hotel rooms are never rented out even if the hotel is fully booked because occupants fall sick after their stay. It was also said that the lift never stopped on the 21st floor. The lift would either skip the 21st floor or would not even reach the 21st floor.
3. Tambun Inn, Ipoh, Malaysia
Tambun Inn may be one of the favourite hotels in Ipoh, Malaysia but that does not stop creatures of the night from wandering around the hotel in the presence of tourists. There were many accounts of events that mentioned the switching on and off of lights, spooky sounds, whispers and screams within the inn and disturbing the living. The most famous resident ghost is one of an elderly woman near the pension.
4. Corus Paradise Hotel, Port Dickson, Malaysia
On the hotel's official website, you will see a total of four grand blocks. But when you personally check in, there is only one block that's completely functional and the other three blocks were actually deserted with no lights and peeling paints. Many guests complained about loathsome odour and also some very weird water marks on the wall in some rooms.
5. Inna Samudra Beach Hotel, Indonesia
This hotel has actually changed its name to try to shed off its haunted status. It was believed that Nyai Loro Kidul, who is known as the Goddess of the South Seas, has enduringly kept room 308 for herself. Legend has it that Nyai Loro Kidul lures fishermen to her love nest at the bottom of the ocean. She whisks away anyone who dares to venture into the sea wearing green. Swimmers are warned not to wear green and not to swim in the ocean. If drowning occurs, the locals attributed the cause to this malevolent Goddess.
6. Sijori Resort, Batam, Indonesia
Located on a hill, this huge and aged hotel location is remote and far from anywhere else. Try to avoid coming back late at night, you have to take an eerie trek up to your room as there are not many lights switched on to guide your path. Guests say that the lamps sometimes flicker on and off for no apparent reason.
7. First Hotel, Bangkok, Thailand
Located near the popular MBK Shopping Mall, there were numerous ghostly sightings shared online about this hotel. It was told that a big fire engulfed parts of the hotel in the 1980's. The body of a Singaporean singer by the name of Shi Ni was found charred beyond recognition in the hotel's nightclub.
8. Asia Hotel, Bangkok, Thailand
With one glance, you would have probably deemed Asia Hotel to be another spooky hotel in Bangkok. We can't blame you – the overall hotel is dimly lit and rooms are old and musty. A typical story involves guests waking up just in time to see ghostly figures sitting on the sofa staring at them, only to vanish into thin air.
9. Baiyoke Sky Hotel, Bangkok, Thailand
The Baiyoke Sky Hotel is Bangkok's tallest hotel at 88 storeys in the year 2011. Three billboard installers died when they fell from a suspended platform on the 69th floor of Baiyoke Tower II.
10. Grand Hyatt, Taipei, Taiwan
Ghost stories about the Grand Hyatt Taipei are rooted in the hotel's dark history. Apparently, the hotel was built on a World War II execution ground and cemetery. Hotel guests have professedly seen spirits roaming in the hallways while others have noticed the sound of weird noises from vacant rooms.
Paranormal activities and rumours regarding the hotel have so negatively affected the business that management decided to consult Feng Shui experts. Chinese calligraphy and scrolls have since been installed in strategic places within the hotel in the hopes of warding off restless spirits. Many visitors swear that they saw a ghost on the top floor, and refuses to ever stay there again.
11. Langham Place, Hong Kong
Located in a popular shopping area of Mong Kok, many guests of Langham Place claimed to hear creepy tapping noises in the room late at night. Even during the day, some guests have mentioned that they felt like they were being 'watched'.
12. HOTEL MYSTAYS PREMIER Akasaka, Tokyo, Japan
Noppera-b is a scary spirit who actually looks normal until a person approaches. When it turns to acknowledge you, it exposes a white face completely blank of features. One of the most haunted places in Tokyo is rumoured to be HOTEL MYSTAYS PREMIER Akasaka which used to be called Akasaka Weekly Mansion.
13. The Taj Mahal Palace, Mumbai, India
The Taj Mahal Hotel in Mumbai known for the shocking 26/11 terrorist attack, is said to be haunted by the spirit of its own architect named W. A. Chambers who happened to be the hotel's chief engineer. Chambers travelled to France shortly before the hotel's completion. He later returned to India only to find out that it was built in the opposite direction. He was so heartbroken that he took his life. Hotel staff and guests claim that his ghost roams the old wing of the hotel obviously still lamenting his design gone bad.
14. Fortune The Savoy Hotel, Mussoorie, India
Fortune The Savoy, is a historic luxury hotel located in the hill station, Mussoorie, in Uttarakhand state of India, The Savoy Hotel, the inspiration of Agatha Christie's novel was the Mysterious Affair at Styles. The hotel offers not only a luxury but a constant supply of pure terror. His former owner, Lady Ormsby , who died allegedly from poisoning, is said to be the haunting this opulent hotel. Scary creature of the night were see to dwell aimlessly the halls of this former hotel.
15. Diplomat Hotel, Baguio City, Philippines
The Diplomat Hotel on Dominican Hill, Baguio City, Philippines is famous for being haunted by headless apparitions amongst other things. There were some visitors of the hotel claiming to saw headless figures carrying a platter with their severed damaged head on it, walking along the corridors wailing for justices. This abandoned hotel was the heaven for the paranormal and ghost hunters. Thankfully, you can no longer book a room in this hotel.
16. Buma Inn, Beijing, China
Chinese people take paranormal things seriously. Anyone would be, if the tale includes scary paranormal creatures of the night, the Berserker. Buma Inn in Beijing is haunted by an angry ghost which seeks revenge. It was said that a guest died because the chef poisoned his food. The chef subsequently stabbed himself. But the terror was far from over. Till today, the restless spirit of murdered still walks the halls of the hotel in search of the chef, who poisoned him.
We hope you find our list of probably the most haunted hotels in Asia useful, do let us know your personal experience if you have stayed in anyone of them before.