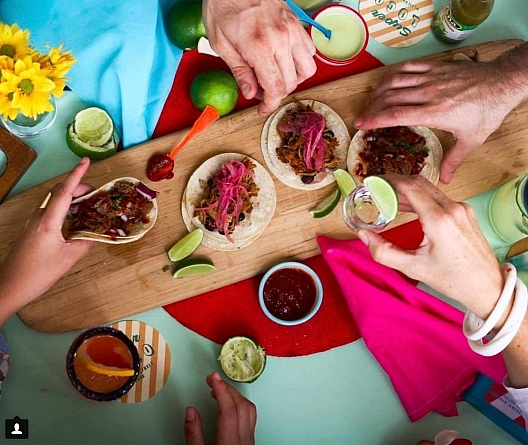 Quayside Singapore – Brand New Riverfront Restaurant & Bar Community
Vibrant, cosmopolitan and homegrown, Robertson Quay has unveiled a fresh new look. Quayside Singapore -a brand new riverfront restaurant and bar community. Quayside was recently completed to reveal a highly anticipated curation of dining talents. A chic new black and white design aesthetic unites each waterfront venue to provide an entirely new al-fresco experience – a fusion of flavours, characters and concepts which together make Quayside, Singapore's hottest new riverside destination.
From pizza making classes at Alt. Pizza and tastes of modern India at Dabbawalla, to the authentic local flavours from national institution, Redhouse Seafood and a slow cooked Texan BBQ experience at Decker BBQ, Quayside's innovative blend of outlets creates a vibrant and energetic new destination for Singapore's most discerning foodies!
An unpretentious neighbourhood that welcomes families, friends (and pets) to relax throughout the day; residents of Singapore will be able to embrace a variety of lifestyle offerings and services at Quayside. Early morning commuters and joggers can grab their coffees, juices and artisanal croissants from gourmet food boutique ABC Bakery, sports lovers can settle in for non-stop live action at Boomarang, and after work respite is offered with Mediterranean inspired sunset cocktails and dining at Summerlong.
Highlights of Quayside lineup include:
1. Summerlong
The latest concept from the team behind Neon Pigeon & Fat Prince, Summerlong is a "City-Beach Cafe" which brings the Eastern Mediterranean seaside lifestyle to Singapore, giving a relaxed barefoot ambience and vacation vibes all throughout the year.
2. Dabbawalla
A fresh new take on an old style of serving some of Mumbai's greatest food, Dabbawalla takes in inspiration and energy from Mumbai, serving up great dishes in a modern, creative setting. Pulling in the roots of the "Dabbawalla" service this really is an Indian food experience like no other.
3. SuperLoco
The legends that brought us Duxton institution Lucha Loco and Sentosa favourite Tanjong Beach Club – SuperLoco is a creative Mexican kitchen, restaurant & bar is unlike any other. Inspired by the delicious street food and fascinating culture of Mexico, Superloco has a strong focus on ambiance and design – casual, fun and festive, and brings the carnival to Quayside!
4. Decker BBQ
Fuss free flavours in a casual outdoor setting, Decker brings an authentic social dining experience to Quayside. Singapore's only all wood smoked Barbecue with fresh meats daily, smoked low and slow overnight, every night, just like back home in Texas.
Quayside, a heartfelt project of RB Capital, one of Singapore's most dynamic real estate companies, was completed in June 2017, and anchor tenant, InterContinental® Singapore Robertson Quay Hotel, will complete the community in September 2017. The hotel will house 1880 Members Club, New York originated Wolfgang Steakhouse, Italian-inspired dining and bar concepts Publico Restaurant and Marcello, and a new Japanese dining experience from Izy Sushi.
There are more exciting things coming up for the community so stay tuned for more Quayside news!