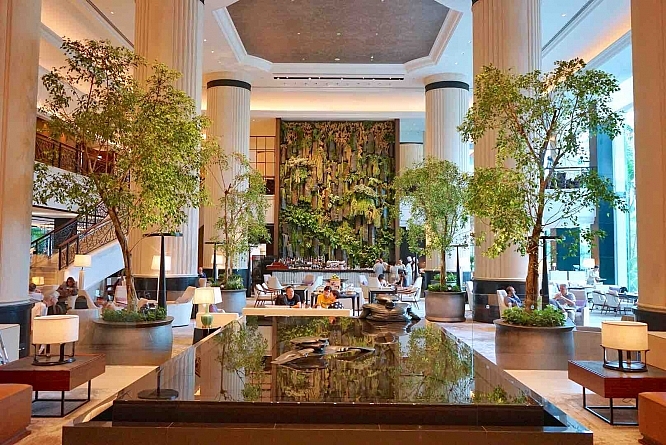 Fall In Love With Newly Rejuvenated Shangri-La Hotel Singapore Again
Most of us would think we know Shangri-La Hotel Singapore very well. Located at the elusive fringe of Orchard Road, we have probably visited the hotel on numerous occasions (think conferences, weddings & even graduations), staycations or buffet indulgence at The Line. After an eight-month rejuvenation, there has never been a better time to fall in love with Shangri-La Hotel Singapore again. Follow us as we present its newly rejuvenated Tower Wing, dining establishments and of course the endearing elements that make us adore it.
1. Shangri-La Hotel Singapore – Brand New Tower Wing
Tower Wing, the core of the property, has emerged after the rejuvenation with a resplendent new urban resort look. Believe us, you would marvel at the breathtaking ceiling art installation by renowned Japanese designer Hirotoshi Sawada the moment you step into the hotel lobby. The artwork is made of thousands of cascading stylised leaves, reminiscent of a Tree Canopy amidst a vibrant tropical oasis.
The central chandelier gives way to an infinity pool of sleek black stone as the focus of the space, while six sculptures of children at play are thoughtfully scattered about the entire lobby.
At The Lobby Lounge, a spacious indoor garden paradise flooded with natural light to welcome you. Potted ficus benjamina trees give the impression of strolling through a park, and at the centre is a floor to ceiling basalt rock of lush tropical ferns and mosses.
2. Shangri-La Hotel Singapore – The Lobby Lounge 
Redesigned and revitalised, The Lobby Lounge at Shangri-La Hotel, Singapore's Tower Wing now serves a delicious spread of local heritage hawker dishes, crafted with finest quality ingredients, and cooked to perfection.
Selected with the help of popular local food influencer Dr. Leslie Tay (ieatishootipost.sg) and perfected by Shangri-La's culinary team in collaboration with the best hawkers of each dish, you and your loved ones will get to savour the best of Singapore favourites such as Fish Head Bee Hoon Soup, Prawn Noodle Soup, Bak Chor Mee, Hainanese Chicken Rice, Katong Laksa, and Chilli Crab with Mantou all in one location! READ MORE
3. Shangri-La Hotel Singapore – Shophouse by Shangri-La 
In a rush? You will be glad to find Shophouse by Shangri-La, a grab-and-go retail concept offering freshly baked bread, homemade sandwiches, salads and snacks, as well as gourmet sauces, flavoured croissants, festive goodies, chocolates that are infused with local ingredients and whiskey, and 3D cakes!
4. Shangri-La Hotel Singapore – Tower Wing Rooms
The iconic Tower Wing's 503 guestrooms and suites are completely refurbished to give luxurious new look. From the lobby, reach them through the stunning lift lobby embellished with authentic Peranakan touches.
For the Tower Wing, you get to choose from Deluxe Rooms, Horizon Club Deluxe and Executive Rooms, the Family-Themed Suite, the One-Bedroom Suite or the 250- square-metre Grand Suite. Calm and inviting with a soothing colour palette, the new accommodations are elegant havens are well-equipped with modern conveniences. Each room is unique its own painting above the bed and a distinctive piece of timber for the table below the TV console.
Our rejuvenated Deluxe Room offered a generous 38 square metres space and come complete with stylish furnishings, luxurious amenities, internet access, glass wardrobes (no more fears of leaving things behind), floor-to-ceiling windows and a choice of city or pool views.
Ladies will love this collapsible vanity table. Just lift it up, switch on the lights and you are the star!
5. Shangri-La Hotel Singapore – Horizon Club Lounge
Looking to spoil yourself silly on your staycation, go get yourself the Horizon Club Rooms. The room will give you access to the exclusive Horizon Club Lounge, up on level 24 of the Tower Wing.
Here you will enjoy unparalleled panoramas of Singapore's skyline, best enjoyed by sinking into strategically placed armchairs that maximise the view.
One of the best perks of getting access to the lounge is the complimentary Afternoon Tea (served daily from 2pm to 4pm) as well as
cocktails and canapes served every evening from 5pm to 8pm. Alcohol lovers would be thrilled for the opportunity to have a go at making their own cocktails! Folks who are not into alcohol can enjoy coffee, tea, juices and soft drinks 24 hours daily.
For breakfast the next day, you can escape the bustling breakfast at The Line for the complimentary breakfast served at the Horizon Club Lounge. The selection may not be as wide but you will appreciate the tranquility it offers and the gorgeous morning skyline view.
6. Shangri-La Hotel Singapore – Nami Restaurant & Bar
Last but not least, we are happy to share the exciting addition to Shangri-La Hotel, Singapore's exquisite dining experience – NAMI Restaurant and Bar. Located on level 24 of Tower Wing, the restaurant showcase the art of fine Japanese dining with seamless omotenashi hospitality. Helming both areas is Head Chef Shigeo Akiba who cooked at the royal wedding of Japan's Prince Akishinomiya and Princess Kiko.
You will get to savour a royal feast of authentic and traditional Japanese cuisine created with refinement and precision. The menu is a celebration of Japan's four seasons, best savoured through gokan – the use of all five senses when dining. A meal here would be perfect when paired a drink from their wide selection of premium Japanese whisky and sake. READ MORE
Exactly as how Reto Klauser, Vice President and General Manager, Shangri-La Hotel, Singapore puts it "Visiting the renovated Shangri-La Hotel, Singapore is like dropping in on a dear friend, but one who has just returned from a retreat. You will still find the resort-like, lush gardens, warm Asian hospitality and the timeless elegance that we are well-known for. In addition to all that, we have introduced new elements that smooth out the transition between work and leisure, so you will feel completely comfortable whether you are on a business trip or a family staycation." It's definitely time to plan your next visit and re-discover the brand new Shangri-La Hotel Singapore!