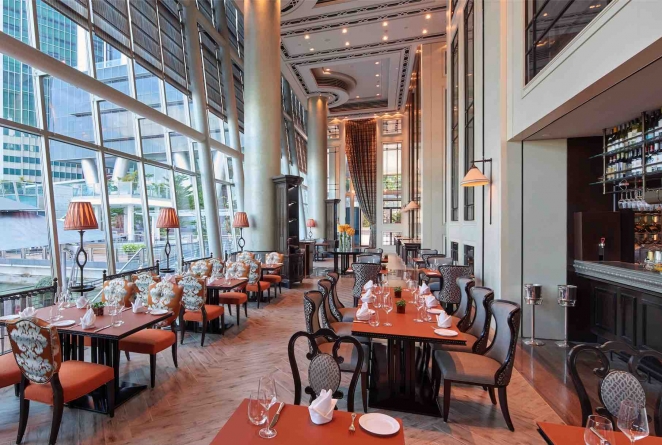 La Brasserie Back With New Interiors & French Menu
Located in The Fullerton Bay Hotel Singapore, La Brasserie reaffirms its leading reputation for elegant, gracious French dining in a stately landmark by the awe-inspiring Marina Bay waterfront, with its newly refurbished salons and re-focused culinary direction.
"Marina Bay has one of the longest waterfronts in Singapore and we enjoy an unrivalled location at the heart of it," says Cavaliere Giovanni Viterale, General Manager of The Fullerton Heritage. "Guests can arrive at our restaurant in style at our own independent street-front entrance. And this, along with our exciting new menu, ambience, and renowned Fullerton hospitality, makes La Brasserie an exceptional waterfront dining experience for every occasion. With our proximity to the financial district in the city centre, we are the perfect place for corporate lunches, in addition to celebrations, dinner gatherings and intimate meals." 
Interiors of Understated Opulence
Boasting 10-metre-high floor to ceiling windows offering stunning views of Marina Bay, and Neo-Palladian architecture, La Brasserie exudes an understated opulence, which recent renovations have further enhanced. A new light Herringbone floor and colour scheme centred on a grey, burnt orange and ivory theme, along with redesigned furnishings and new drapery by Jim Thompson have visually revitalised the interior, giving it a more lively contemporary ambience while drawing in, and transforming, the brilliant ochres and purples when the sun sets.
Newly Opened Fullerton Boutique
There is also the brand new Fullerton Boutique, located at the restaurant entrance leading from the hotel, which offers a selection of signature patisserie and whole cakes, both Western and Asian, including plain cheesecakes with house-made compotes of mango, strawberry and lemon curd to top them with.
Lifestyle items at The Fullerton Boutique include The Fullerton Bay Hotel scent diffuser, Fullerton storybooks and plush bears, as well as a collection of merchandise such as perfumes, coasters, and books from Andre Fu, Asia's highly sought-after interior architect and designer, who is behind the original restaurant design and its current refurbishments.
Brasserie Classics & Cuisine Du Soleil
The food of La Brasserie is a harmony of French brasserie classics and dishes that have the hallmark of 'cuisine du soleil'. This 'cuisine of the sun' is the representative food of the South of France, a region that is said to be blessed with the sun for 330 days of the year. It is a cuisine characterised by Mediterranean flavours and a lighter touch, with ingredients that evoke the 'essence' of the sun.
Highly recommended 'sun-blessed' dishes on the menu include Sautéed Prawns and Chorizo ($21++), Aubergine Caviar Tartine ($19++), Cabillaud a la Grenobloise – Roasted Cod ($46++), and Lobster a L'Americaine ($68++). Alongside these, La Brasserie offers traditional French classics such as Traditional Onion Soup ($19++), Suprême de Canard Confit ($39++), and Grilled Côte de Boeuf ($99++ for two persons).
New additions to the refreshed menu are the selection of Galettes ($23++ / $28++ with a cider), Aubergine Caviar Tartine ($19++), Baked Endives ($19++), Hot Smoked Balik Salmon ($21++), and Poulet Fricaseé Façon Tajine ($39++). Complementing the food is La Brasserie's fine wine library, featuring a selection of global wine labels.
La Brasserie serves lunch and dinner in à la carte and set. Health-watchers will find the Healthy Lunch set menu appealing with a specially prepared Organic Salad Bar option, featuring items such as Pasta Salad, Caprese Salad and Buffalo Mozzarella, a Fresh Garden Selection, as well as Chilled Vegetables and condiments.
The Starter, Main Course and Dessert selections offer a curated range of delicious wellness-focused dishes. For weekend dining, there is the Saturday brunch featuring a create-your-own Bloody Mary station and a Sunday Champagne brunch with a dedicated kids' corner.
Whether one is dining in the salons or private rooms of La Brasserie or out on the al fresco terrace, the Fullerton hospitality is a constant. Small but telling gestures to affirm this: the table- side portioning of shared dishes, the condiment case with a choice of nine different mustards and three different salts, and generous servings of ice cream with the shared Tarte Tartine.
Above all, it is evident in the service: always warm and personal, ever attentive yet discreet. Combine this with the restaurant's comfortable opulence and gorgeous waterfront views, and you feel cosseted right within the history and beauty of The Fullerton Heritage precinct.