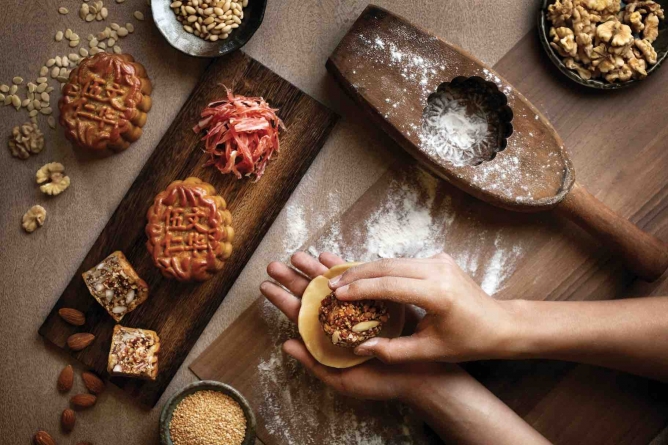 Mandarin Orchard Singapore Unveils Mid-Autumn Mooncake Collection
Mandarin Orchard Singapore just unveiled a selection of exquisite mooncakes crafted to perfection by renowned Executive Sous Chef Liew Tian Heong and team. The Mid-Autumn collection features both traditional favourites and innovative delights inspired by exotic Japanese ingredients. Each selection is elegantly presented in a custom-designed red gift box that features an intricate lattice pattern. You will be delighted to find the encased individual boxes are thoughtfully arranged to form a golden moon.
In the spotlight this year are the new Limited Edition Mini Baked Mooncakes made using high-quality ingredients sourced from Japan, such as Purple Potato, Chestnut, Matcha Red Bean and White Kidney Bean.
Also back by popular demand, the brand's Signature Baked Mooncake with Mixed Nuts and Jamón Ibérico offers a multi-textured medley of sweet and savoury flavours that contrast beautifully with every bite.
Similarly, the collection showcases Mandarin Orchard's refreshing, original creations such as Lychee Martini and Chocolate, and Red wine Cranberry Paste with Japanese Yuzu and Lemongrass, part of the decadent Mini Snow Skin Mooncakes range.
For those looking for traditional or healthier options, the classic Baked Double or Single Yolk and White Lotus Paste or Macadamia Nuts and Low Sugar White Lotus Paste make for thoughtful festive gifts.
Where To Buy
The Mid-Autumn Collection Price List is as follow:
The Mid-Autumn Collection is available at Mandarin Orchard Singapore's Festive Counter at Level 1 Lobby from 29 August to 4 October 2017 from 11am to 7pm daily.
DBS credit card holders will receive 25% discount for purchases during the early bird period from now until 10 August, and 20% discount thereafter. Bank of China, Citibank, Maybank, Standard Chartered and UOB credit card holders enjoy 20% discount during the early bird period and 15% discount thereafter. These discounts are only available at the hotel's Festive Counter.
For orders or enquiries, please call 6831 6320/6262 or email festivedesk.orchard@meritushotels.com.