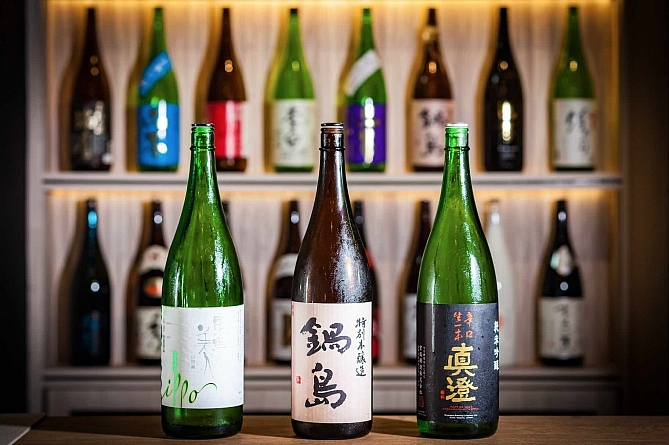 Big Sake Bar Singapore Introduces New Wagyu Themed Omakase Menu
Singaporeans who wish to quench their thirst for quality sake now have a new place to go to. Big Sake Bar Singapore boasts of an ever-expanding selection of over 40 different kinds of Japanese sakes and whiskeys. The establishment concept is similar to the izakaya bars you see in many parts of Japan where diners get to enjoy sake while helping themselves to delicious morsels of food and engage in small talks with the bar owners. Located in the Concourse Skyline Building and co-owned by three young men, join us as we check out its sake and latest wagyu themed omakase menu.
Big Sake Bar relaxes you the moment you step in with its cosy, chill out vibe. The bar interior was conceptualised and put together by the owners themselves. This hip izakaya joint offers a rustic Japanese experience with pre-war Japanese beer posters on its brick walls and vibrantly orange crab shells lining the refrigerated sushi case. While we recommend sitting by the bar to catch the chef in action, folks who are not used to bar top dining or prefer a more privacy with friends or loved ones can go for the non-counter seats within the restaurant.
To celebrate Big Sake Bar Singapore's 1st year anniversary, they just launched an eight-course omakase menu focuses on premium grade A4 wagyu beef, features only the best and freshest of ingredients.  You get to choose from three diverse sakes to go with the new menu. Toyo Bijin (Asian Beauty), a junmai daiginjyo (milled to at least 50% removal of each grain of rice) from the Sumikawa Shuzojo Brewery in the Yamaguchi prefecture, has a clean entry with a slightly sweet finish. Nabeshima "Pink Label" is a tokubetsu honjozo (milled to 30-40% removal of each grain of rice) sake sweet from start to finish, with slight effervescence. Masumi's Karakuchi Ki-ippon is a delightfully dry junmai ginjyo (milled to 40-50% removal of each grain of rice).
Co-owner Daniel Kwok shared that the bar's trademark "大" (Japanese kanji character for "big") promises to be "big on food, big on service, big on sakes".  From crowd favourites Nabeshima "Pink Label" to the precious Juyondai or "14th Generation" and the mythical Kuheji Voyage and Rendez-vous, there will definitely be a sake that's just right for you!
We were privileged to get the chance to sample all the three sake options. Chef Andy explained in great lengths the difference between them. Masumi's Karakuchi Ki-ippon (Dry Sake) is recommended if you do not wish to distract your taste buds from your omakase meal.
The co-owners are passionate about their sakes and will be more than happy to help you understand more before choosing your sake.
Big Sake Bar Singapore – 8 Course Omakase Adventure
Your culinary journey will begin with Century Egg Tofu. The touch of local flavour is a good reflection of Chef Andy's attention to detail. Commanding a silky smooth texture, the tofu soaked in the flavours of our familiar century egg very well. Folks who love century eggs would definitely enjoy this dish.
Next, you will have the chef's selection of an assorted Sashimi Platter including thick slices of mekajiki (swordfish), salmon, aburi (seared) salmon, and botan ebi, to give a burst of fresh flavours from the sea.
The star of the menu, slices of grade A4 Kagoshima Wagyu Beef Sirloin flown in from a warm sunny tropical island in the south of Japan, is a must-try for beef connoisseurs. This richly marbled and flavourful beef is served simply with a Ponzu sauce complementing its natural flavour.
The rest of the Wagyu Beef will be presented in the form of Maki for appreciation of a more complex taste.
Another worthy mention is Big Sake Bar's Negitoro Don made with melt-in-your-mouth tender otoro (tuna under-belly), the most precious part of the fish otherwise known as tuna perfection. Topped with a raw quail egg and crisp green onions sitting atop a bed of premium Japanese rice from the Akita prefecture, the Negitoro Don is a delicate dish that is the perfect follow up to the robust flavours of the prior beef dish.
Your meal will be completed with a Sushi Platter, Asari Miso Soup and Goma or Yuzu Ice Cream.
Big Sake Bar Singapore – Reserve Your Omakase Experience 
To maintain their philosophy on quality at an affordable price, Big Sake Bar Singapore will present its omakase menu at S$88 nett per person for an eight-course meal, and S$108 nett per person for the eight-course meal served with a Tokkuri (carafe) of your choice of sake from the selection of three premium sakes.
To preserve the freshness of the ingredients and to ensure a great experience, Big Sake Bar Singapore will only seat six guests at the main sushi counter each night for the new omakase menu. This will ensure guests get to enjoy the full omakase experience as they watch Chef Andy skilfully prepare every dish meticulously. Big Sake Bar's new omakase menu will be available for a limited time only from now until 31 December 2017.
Big Sake Bar Singapore
Address: 302 Beach Road, Concourse Skyline #01-02, Singapore 199600 | Opening Hours: 12pm – 2.30pm, 6pm to 12am (Mon – Fri) & 6pm to 12am (Sat) | Facebook: Big Sake Bar  for more information.