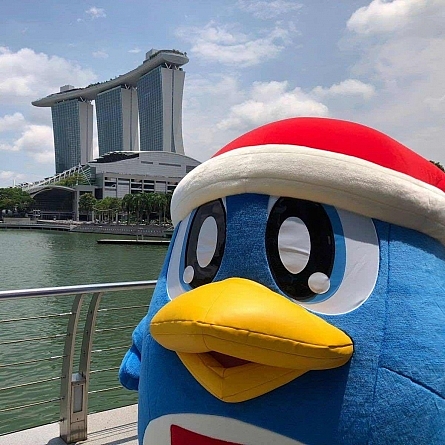 Don Don Donki Singapore: 1st Store Outside Japan Opens In Orchard Central
On 1st December 2017, Don Don Donki Singapore will open its first store in Asia that is outside of Japan in Orchard Central and present its eclectic retail experience in the heart of Singapore. The store will take on a double-storey retail space in Orchard Central and operate 24 hours, seven days a week. This Don Don Donki outlet will feature a Hokkaido retail theme, spanning a wide array of authentic Japanese products including food and beverage, grocery, party goods, costumes and beauty products, amongst many others for Singaporeans!
Don Don Donki Singapore – Your Japanese Brand Specialist
As the first flagship outlet in Asia, Don Don Donki aims to position itself as the 'Japanese Brand Specialist' by offering you products that are either made or designed in Japan. You can expect the distinctive retail DNA of Donki that focuses on convenience, amazing prices and an amusement park-like shopping experience through the store's unique concept and design.
Hideki Okada, Director, Pan Pacific International Holdings said: "Singapore is known to be Southeast Asia's retail hub and is home to some of the biggest brands in the world. Therefore, we are thrilled to launch Don Don Donki here as our pioneer store for the rest of Southeast Asia. While we have retained the diverse range of products that define the Donki shopping experience, we have also made sure that they are carefully selected to suit local preferences."
Don Don Donki Singapore – What's In Store!
The double-storey retail space will become the first 24-hour Japanese discount store in Singapore, boasting a wide variety of goods including fresh foods (meat, fruits and takeaway meals), processed foods, everyday household items, cosmetics and novelty goods.
Like its stores in Japan, Don Don Donki will continue to keep prices for their products affordable and competitive in Singapore. In partnership with Hokkaido Marche, Don Don Donki will offer shoppers in Singapore a Hokkaido-themed retail and dine-in space that features unique product offerings and successful tenants from the region.
"No other Donki store carries such a broad diversity of food choices, and the partnership with Hokkaido Marche will further elevate the dining experience here. We hope this will be a refreshing retail concept that Singaporeans can look forward to and heartily enjoy," said Mr. Okada.
Don Don Donki Singapore – Product Lines & Highlights
While all products will be 100% made or designed in Japan, Don Don Donki Singapore adopts a Hokkaido-themed retail experience where a third of products offered are curated from Hokkaido. This includes meat and fish specially caught in Hokkaido, such as Tokachi Bee.
The Food section will include fresh foods (meat, fruit and produce), liquor, disposable items, daily household items, cosmetics, apparel, toys, stationery, kitchen goods, fitness goods, novelty items and more. Premium Japanese alcohol options such as Japanese Sake and Whiskey will be served at Don Don Donki's bar and there will also be a wide delicatessen offering of food such as healthy Japanese lunch plates, okonomiyaki, yakitori, Hokkaido Gelato and other hot Japanese food.
Don Don Donki Singapore – Don Quijote Group's Private Brand: Jonetsu Kakaku
Each product category will contain products from Don Quijote Group's very own private brand called "Jonetsu Kakaku", which translates to Passionate Price. The Jonetsu Kakaku logo is a promise of affordability without compromising on quality. Products under this brand will capture the elements of fun and discovery associated with Don Quijote Hokkaido-themed Retail Concept.
Don Don Donki Singapore Opening Promotion
Don Don Donki Singapore has planned a number of perks for you as part of its opening promotion!
Once the store opens at 10am on 1st December 2017, the first 150 customers who spend $100 will stand to receive a "Donpen" Soft Toy. Shoppers will also get to play Mini Games from 10am to 9pm to win with special prizes such as soft toys, snacks and other merchandises.
Besides Japanese Premium Sweet Potato (whole) going for $2 (Limited to two sweet potatoes per person. While stocks last!), there will also be special choice products on offer every hour. You can also get to savour free food tasting between 1 – 3 December 2017 at 10am, 12pm and 6pm respectively.
Don Don Donki Singapore
Address: 181 Orchard Road, Orchard Central #B1-15 to #B1-29, #B2-01 to #B2-10 & #B2-30 to #B2-43 | Opening Hours: 24 Hours | Facebook: DonkiSG | Instagram: @DonkiSG