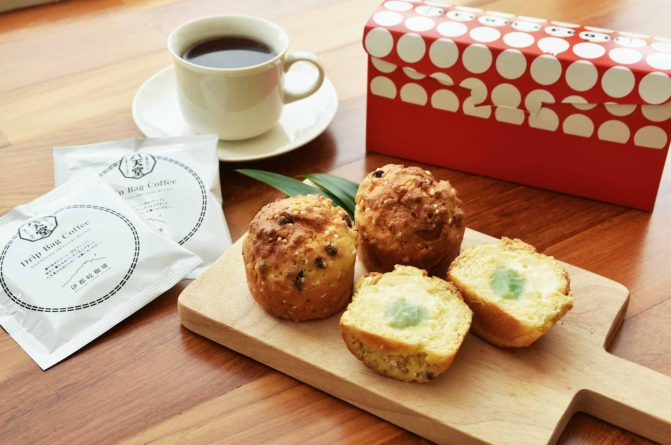 Hattendo Cream Muffins Debuts At Singapore Coffee Festival 2017
Hattendo, Japan's famed cream bun maker introduced a brand new product – Hattendo cream muffins. As part of their new cream muffin series, the Japanese bun maker specially created the Singapore Cream Muffin in time to celebrate Singapore's 52nd birthday. These lovely muffins will make its debut at Singapore Coffee Festival 2017 and will be sold at the Hattendo Cafe exclusively from 7 to 13 August 2017.
Hattendo, a three-generation bakery was originally established as a Japanese traditional confectionery shop in Hiroshima, Japan since 1933. Takamasa Morimitsu, the grandson of the founder brought the drastic change in the family business by focusing only on cream buns in 2007. The company since has shops in Korea and Singapore, with 25 outlets across Japan.
What's Special About Hattendo Cream Muffins?
These cream muffins feature three layers of deliciousness.
1. Crispy Biscuit Exterior
The outer layer of these muffins is made of crispy biscuit mixed with crunchy almonds, pearl sugar and chocolate chips. The mixture adds the nutty fragrance and the unique texture to the crispy biscuit, creating an unforgettable first bite. The biscuit crust holds all the goodness inside making it easy and convenient for you to eat it on the go!
2. Melting Soft Dough
The muffin is made of the fluffiest, pillowy soft dough that melts in your mouth. The light and airy dough were achieved after many attempts to achieve the perfect texture.
3. The Muffin Core – The Perfect Cream 
Hattendo's biggest strength lies in their special homemade cream recipe that has become a favourite to many. It's Singapore Cream Muffin features a double cream filling of kaya jam and custard cream, which was specially developed to complement the fragrant kaya jam. There are also chocolate flavoured custard cream and matcha flavour custard cream available. For the Matcha Muffin, Yame Matcha, a very fragrant and fine quality matcha from Fukuoka Japan, is used.
4. No Preservatives 
The cream muffin is made of fine ingredients with no use of preservatives. Therefore, the expiration date is set as 24 hours after baking.
Get Your Muffins Now!
Both Cream Muffins (Matcha & Chocolate) and Singapore Cream Muffins (Kaya Jam x Custard) are now available at S$3.00 each. Get them at its Singapore store:
Hattendo Cafe
Address: 7 Wallich Street, Tanjong Pagar Centre #01-05 Singapore 078884 | Opening Hours: 10am – 9pm (Mon – Fri) & 11am – 8pm (Sat – Sun) | Website: Hattendo Cafe | Facebook: Hattendo Singapore  | Instagram: Hattendo Singapore