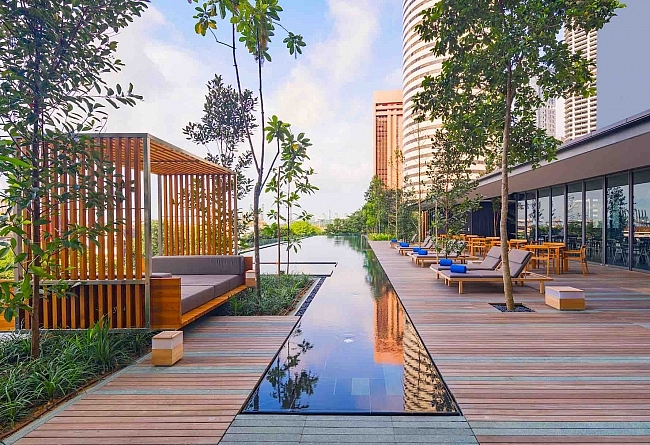 Oakwood Premier OUE Singapore: Luxury Stay In Central Business District
Located in the heart of Singapore Central Business District, Oakwood Premier OUE Singapore provides luxurious serviced apartments that are thoughtfully curated with the best in luxury living, style and design. Each of their 268 residences caters to the needs of both international business and leisure travellers. Housed within the OUE Downtown mixed-use development which offers a fusion of residential, retail and leisure facilities, the Oakwood experience starts on the 7th floor, away from hustle and bustle of downtown Singapore.
As part of the Serviced Apartment guidelines by URA, a minimum stay of seven nights would be applicable at the Oakwood Premier OUE Singapore. Just right next to the lobby, you will find a cosy Resident Lounge where you can catch up with emails or host a business discussion.
Oakwood Premier OUE Singapore – Home Out Of Home
Oakwood Premier OUE Singapore's 268 residences comprise of studios, one-bedroom and two-bedroom apartments. The moment you step into your one-bedroom apartment, you would be convinced that Oakwood strive to provide high-comfort living where every apartment feels like a luxurious residence.
The room comes with a fully equipped kitchen with some of the best-in-class appliances ranging from Smeg ovens, De'Longhi toasters to a built-in dishwasher, making it a dream kitchen for residents who love to cook and entertain guest from home. There is also an elegant dining space to savour your home-cooked meals or a-la-carte room service.
Oakwood Premier OUE Singapore – Living Room To Relax Or Entertain
The living room added to the homely touch which makes it great for both relaxation and entertaining guests.
Oakwood Premier OUE Singapore – Bedroom With A View 
The view of Singapore's Central Business District from the room was stunningly beautiful. Together with the bathroom panels, the room windows commanded a 180 degrees view of its surroundings.
Oakwood Premier OUE Singapore – State Of The Art Technology 
Oakwood Premier OUE Singapore embraces technology to enhance the convenience and quality of your stay. Each apartment is equipped with a tablet with the Oakwood app, which can help you make all in-room requests, book taxis, order flowers or buy groceries. The same app also provides links to Singapore's most loved restaurants, from famed Michelin-starred hotspots at Marina Bay Sands to hidden gems in shophouses on Keong Saik Road, as well as the locals' favoured cocktail bars, late night dessert bars and the city's best parties.
For residents who are more homely, chill and relax with the room's Bluetooth sound system, Smart TV and Samsung mobile phone with access to 24-hour customer service.
Oakwood Premier OUE Singapore – Ultra Pampering Toiletries, Gown & Slipper Sets
The bathrooms feature rain showers with custom Peter Morrissey toiletries and ultra-soft gown and slipper sets designed to evoke a spa-like to leave travellers relaxed and rejuvenated. You would fall in love with Oakwood Premier OUE Singapore gown and its velvety soft and luxurious insides.
Oakwood Premier OUE Singapore – Cocktails & Canapés Awaits 
For residents who sign up for The Oakwood Executive Club privilege, you will enjoy complimentary use of a glass-windowed Executive Boardroom and access to the Executive Club Lounge – both situated poolside with city views.
The luxurious Oakwood Executive Club Lounge serves daily breakfast spreads and you get to enjoy free flow of evening sunset cocktails and canapés to unwind and relax before dinner.
Oakwood Premier OUE Singapore – Call It A Night
After dinner, do check out Oakwood's The Bar before calling it a night.
There are lots of drinks options to choose from ranging from a good old beer, wine to fresh Downtown Mojito or smooth Xpresso Martini. You can either leave it to the bartender to conjure up a concoction or share with him your preference for the evening.

Oakwood Premier OUE Singapore – Sumptuous Daily Breakfast Buffet
The morning after, savour a complimentary daily breakfast at Oakwood Premier OUE's in-house restaurant Se7enth. The restaurant features international and fresh local produce from made-to-order omelettes to healthy home-made bircher muesli and premium grade coffee.
Oakwood Premier OUE Singapore – For The Fitness Freaks 
For residents who loves to work out regularly, there is a basic gym that overlooks the beautiful infinity pool.
Oakwood Premier OUE Singapore – Soak & Relax With An Infinity Urban View 
After which, change into your swimwear to soak your aching muscles.
Spend a relaxing afternoon just swimming, soaking in the sun or take pool shots with amazing urban backdrops.
We recommend that you come back to the pool to take in the enchanting view in the evening.
Oakwood Premier OUE Singapore is the second Oakwood property in Singapore, following the March opening of Oakwood Studios Singapore in the Orchard Road area. The development joins existing Oakwood Premier properties in Jakarta, Manila, Seoul, Incheon, Tokyo, Guangzhou and Bangalore. We would definitely recommend the residence to both business or leisure travellers who are keen to visit and stay in Singapore for more than a week.
Oakwood Premier OUE Singapore
Address: 6 Shenton Way Level 7, OUE Downtown 1 Singapore 068809 | Tel: +65 6812 6000 | Email: [email protected] | Website: Oakwood Premier OUE Singapore | Facebook: OakwoodPremierOUESingapore | Instagram: Oakwoodpremierouesingapore