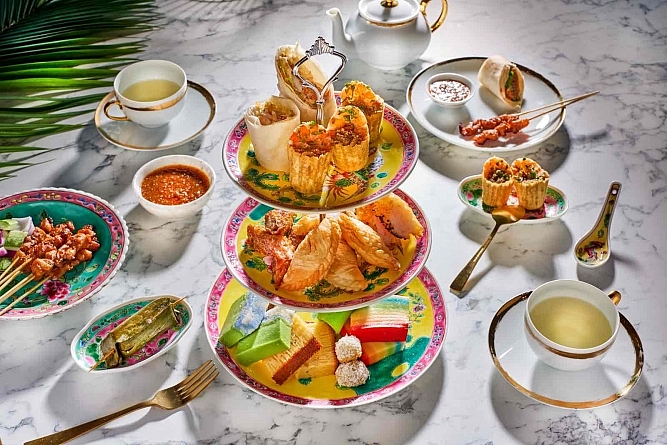 Savour Singapore Heritage Hawker Dishes At Shangri-la Hotel Lobby Lounge
Experience Singapore's unique hawker delights like the locals, albeit with a refined twist, with every visit to The Lobby Lounge, at the newly renovated Tower Wing of Shangri-La Hotel, Singapore. Redesigned and revitalised, the lounge now offers a delicious spread of local heritage hawker dishes, crafted with finest quality ingredients, and cooked to perfection.
Six signatures anchor the menu, each inspired by the flavours and culinary techniques of those who know this best in Singapore: Bak Chor Mee with Fish Maw Soup ($24), Hainanese Chicken Rice ($20), Fish Bee Hoon ($24), Prawn Noodle Soup ($26), Katong Laksa ($18), and Chilli Crab and Mantou ($26).
The Bak Chor Mee with Fish Maw Soup from Seng Kee Mushroom Minced Meat Noodle will win over the palate with its signature fish maw broth served in a heated claypot that is brewed from pork bones and dried sole, served alongside ingredients of minced pork, pork slices, egg, seaweed, and stewed mushroom slices.
The Chilli Crab and Mantou was selected from an original recipe by Dragon Phoenix restaurant. This sweet and spicy crustacean dish traces its beginnings from a humble pushcart along East Coast Road in 1956. Decades later, Dragon Phoenix Restaurant's Chef Hooi added sambal and eggs to the recipe to enrich the gravy, resulting in the well-loved version that it is today.
Another dish to have is the Katong Laksa, featuring short, thick rice noodles served in a broth made from coconut, flavoured with dried shrimp and fragranced with laksa leaf. The recipe at the Lobby Lounge is inspired by the Original Katong Laksa aka Janggut Laksa in Katong, an icon served since the 1950s.
All six signature dishes are available on the à la carte menu daily from 11.30 am to 10 pm or as part of the local semi-buffet lunch priced at $38++ during weekdays or $45++ during weekends. The semi-buffet lunch encompasses a wide selection of local appetisers and desserts and a choice of one of the six signature dishes.
Be spoilt with options such as Kueh Pie Tee and Popiah that are prepared à la minute, and sweets such as assorted Nonya Kueh, Cheng Tng (a local dessert soup) and Tau Suan (split green bean soup). The items change daily so dining every day at the Lobby Lounge will always excite the taste buds.
Afternoon Tea: A Three-Tier Local Signature Set
Come mid-afternoon, The Lobby Lounge transits to afternoon tea, offering a Three-Tier Local Signature Set. Succulent local delicacies are recommended to be paired with coffee or tea.
Alternatively, select a beverage from the Local Favourites section, such as Teh Tarik ($8), Asia's favourite piping hot milk tea, Chin Chow ($8), a black grass jelly drink, and Milo Over-The-Top ($12), an elaborate chocolate and malt extravaganza.
For those peckish moments, Ngoh Hiang ($14) is the way to go, available on the à la carte menu from 2.30pm onwards. Adapted from East Coast Ngoh Hiang's most popular item, it is a roll of minced pork seasoned with five spice powder, wrapped in tofu skin and then deep fried.
All the food is served on Peranakan crockery – think colourful motifs of nature that lend an authentic touch to the dining experience. Touch and taste aside, in between courses, pause for a moment to enjoy the elegant and relaxing atmosphere, complemented by impressive soaring columns that heighten the double volume space, floor-to-ceiling glass windows that let in natural light, and plush sofas in leather and fabric.
But the best seats in the house must surely go to those facing the dramatic feature wall, with its cutting-edge design by Australian award-winning and celebrity landscape designer Charlie Albone. Measuring 9m by 6m, it took a team of three botanists and six specialists over 700 man-hours to install. Growing into the basalt rock are nine different types of living plants as well as some artificial ones. Spot the distinctive Rabbit's Foot fern, the delicate Baby's Tears and the pretty purple flowers from the Spanish sprawl.
The Lobby Lounge
Address: Lobby Level, Tower Wing, Shangri-La Hotel, Singapore, 22 Orange Grove Road, Singapore 258350 | Opening Hours: 7.30am to 1am (Daily) | 3-Tier Local Signature Afternoon Tea Set: 3pm to 5.30pm at $30++ (Mon – Fri) | À la carte Menu: 11.30am to 10pm (Daily) | Local Semi-buffet Lunch: 11.30am to 2.30pm at $38++ (Mon – Fri) & 11.30am to 5pm at $45++ (Sat, Sun & Public Holidays) | 50% off for Children under 12-years-old | Website: The Lobby Lounge
With its mix of heritage and modernity, the new Lobby Lounge is the ideal space for an informal catch-up with a foreign visitor, or a gathering of friends and colleagues to savour the best of what Singapore's hawker fare has to offer.