Chinese cuisine is generally conservative and seldom wander off traditions. That's what the 2 chefs at Blossom Restaurant Singapore, a relatively new 188-seat contemporary Chinese restaurant located in Marina Bay Sands hotel lobby want to change by cleverly balancing traditions with creative modern techniques. In a harmonious partnership, Chef Fok Kai Yee (Culinary Master) transforms time-honoured recipes into insatiable flavours while Executive Chef Jason Lau introduces innovative and contemporary techniques to the traditional flavours.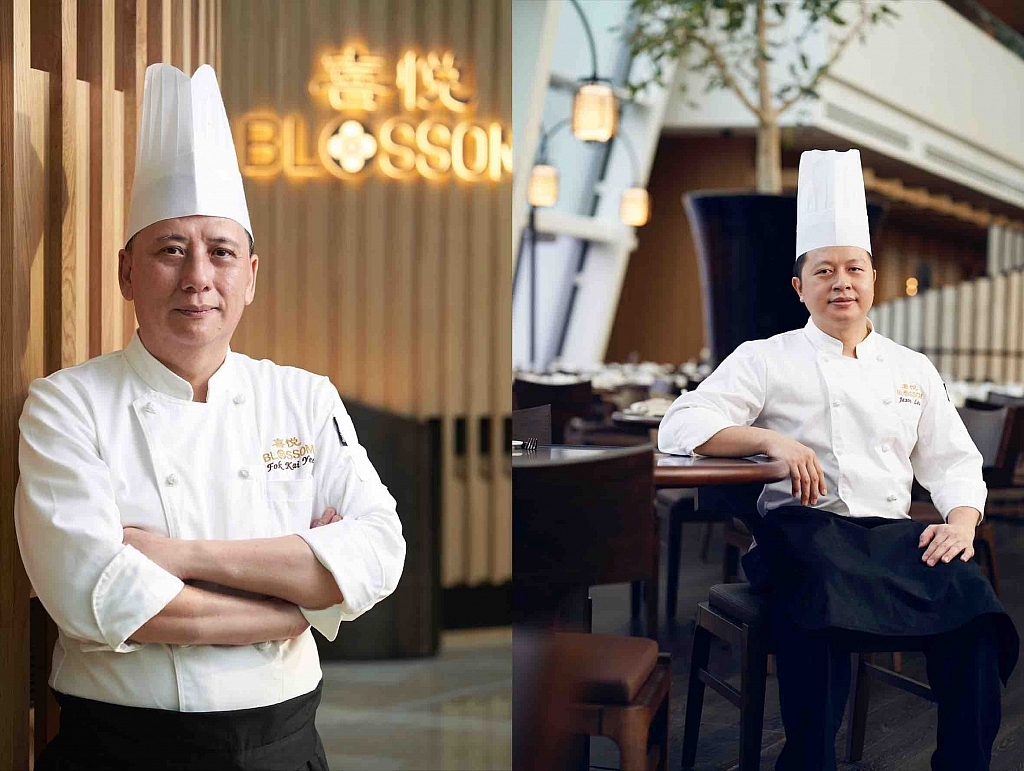 Blossom Restaurant Singapore – Welcome Bar & Interiors
Why not have a drink to start your evening? We lingered by the restaurant bar for champagne and snacks while waiting for our table to be ready.  We loved how the restaurant elegant interiors reflect subtle luxury and depth yet at the same time inviting. Our friendly host guided us to a private room which can be closed up for a small group dining event.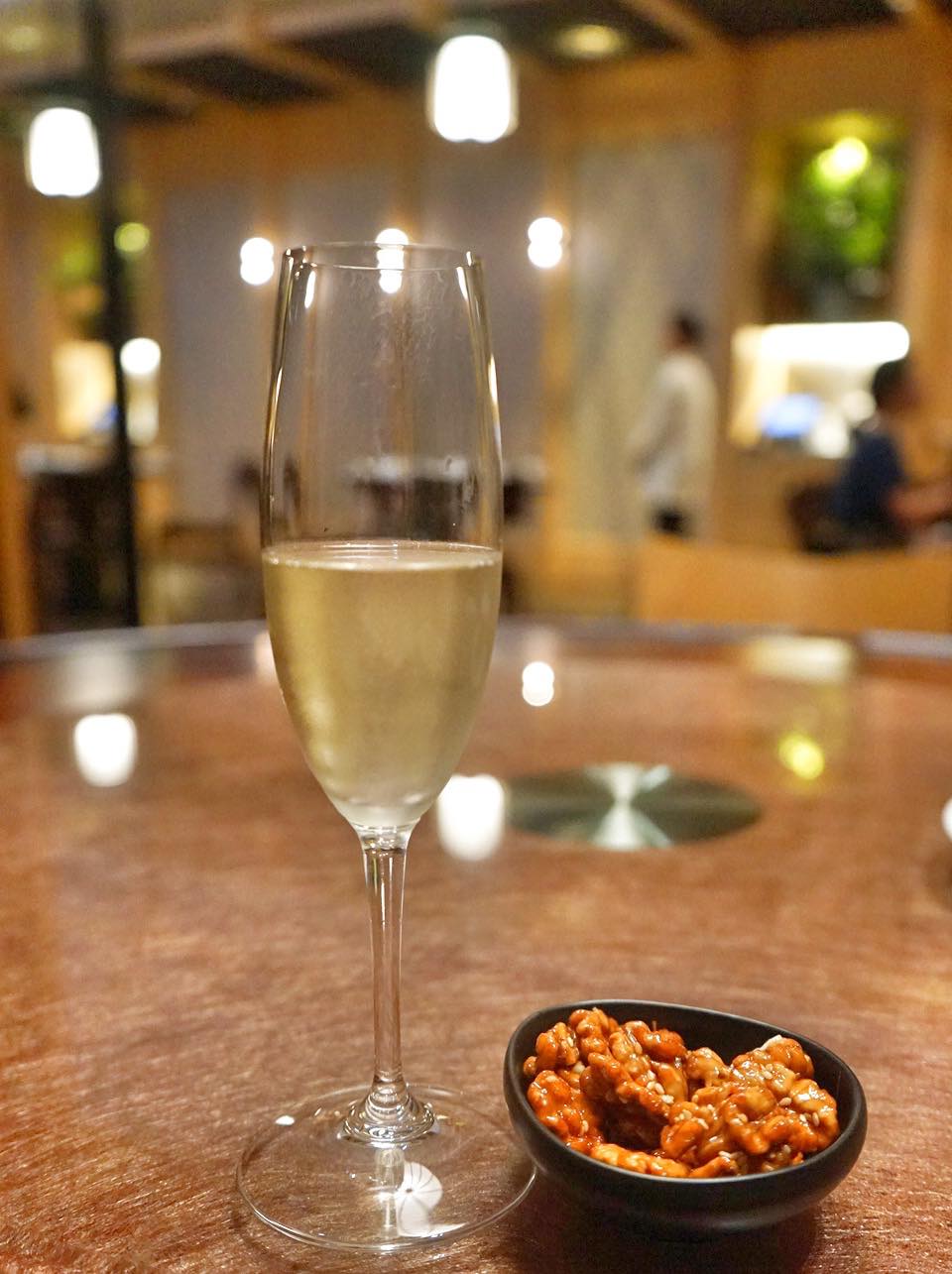 Blossom Restaurant Singapore – A Feast For Two
We started our feast with a delightful Blossom Combination Platter which consists of Golden Pear Stuffed with Minced Pork ($5.80 / 3pcs), Blossom signature Steamed Prawn Dumplings ($7.80/4pcs) & Steamed 'Siew Mai' with Quail Egg ($7.80 / 4pcs)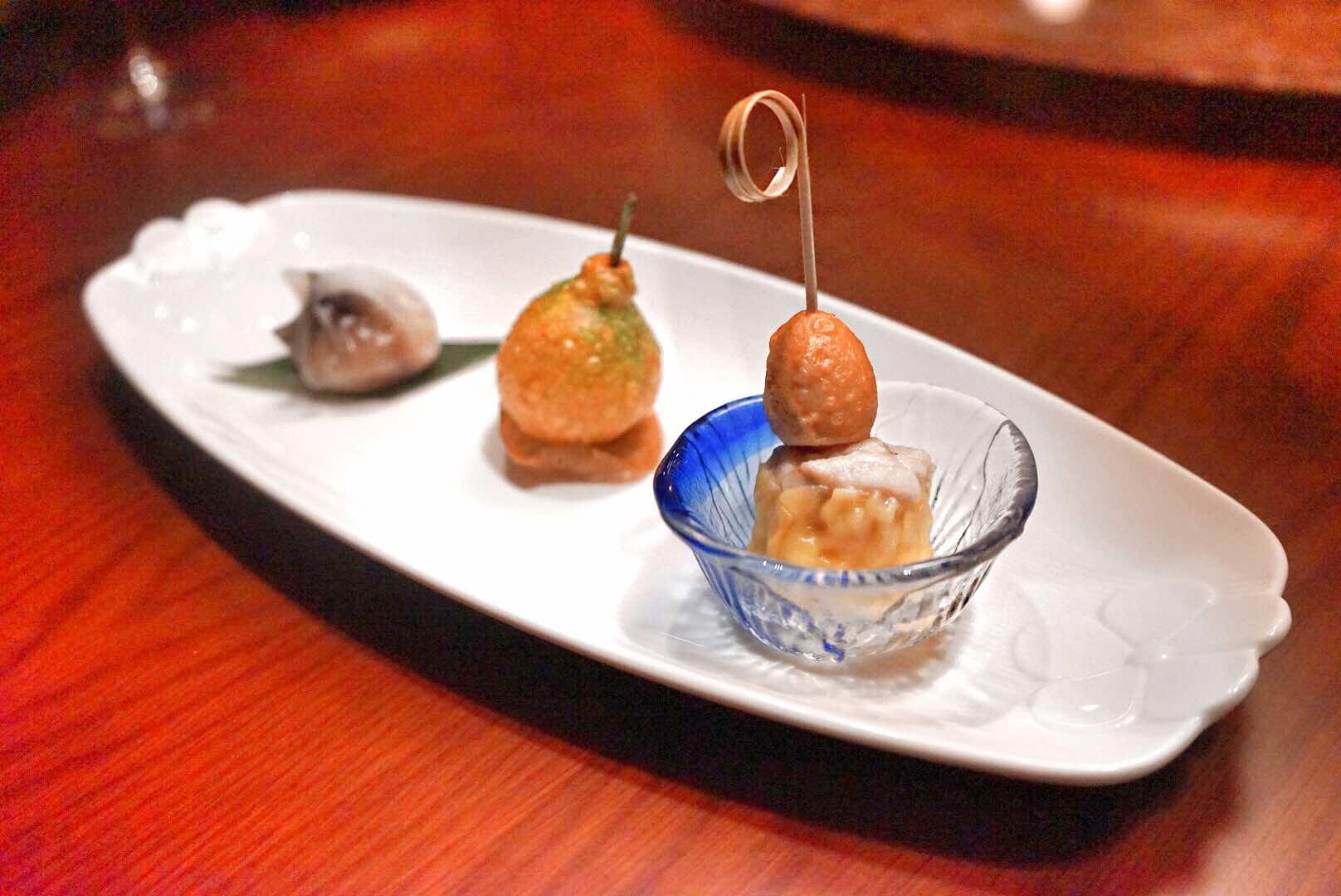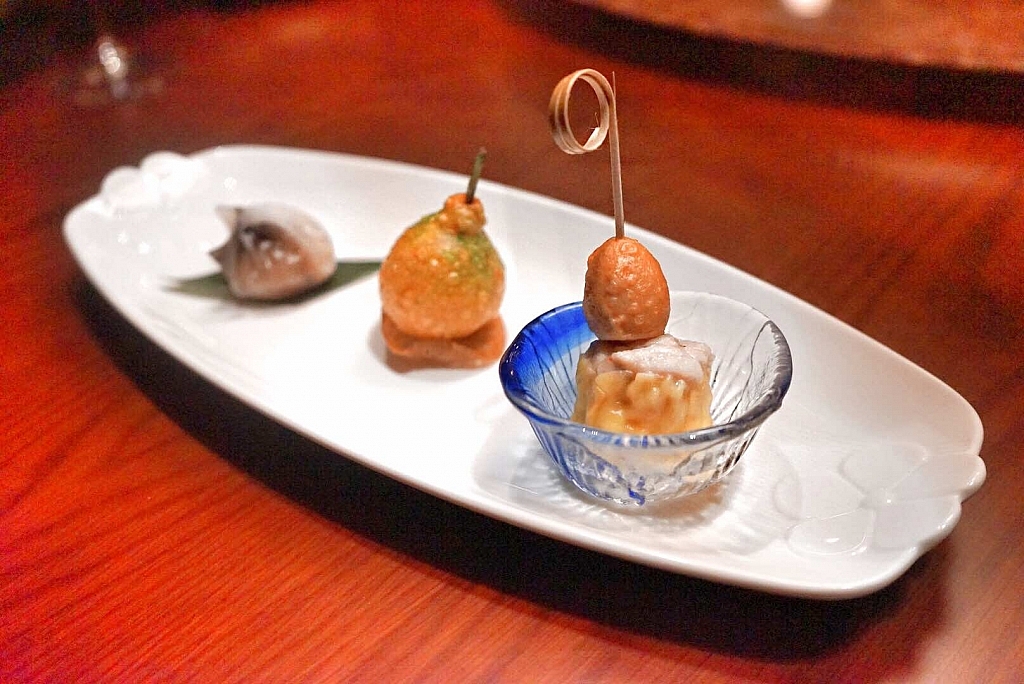 While all three morsels were delightful, we particularly adored the cute pear-shaped dim sum. The fried skin that packed the minced meat neatly within had a lovely chewy texture and it is simply too instagrammable!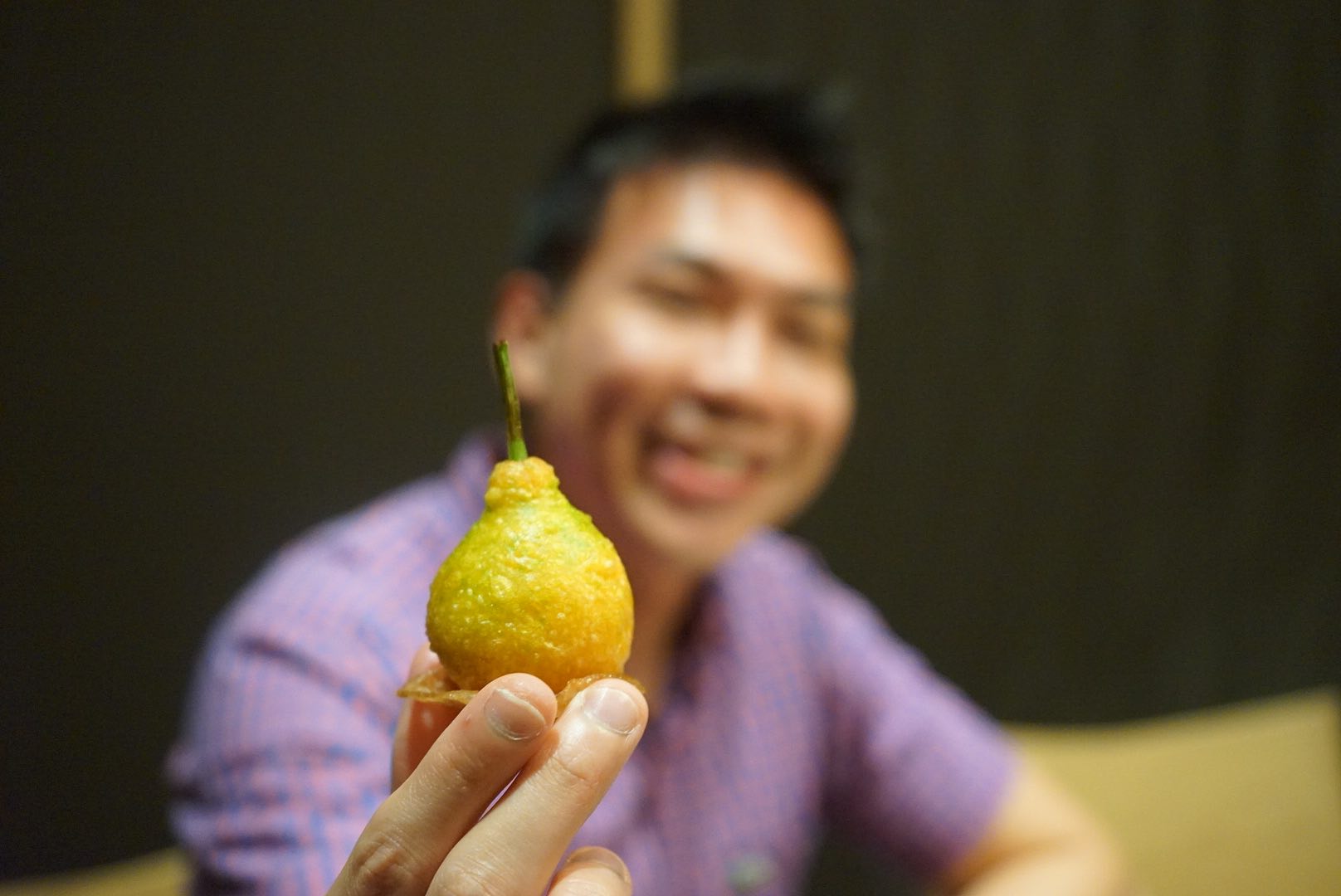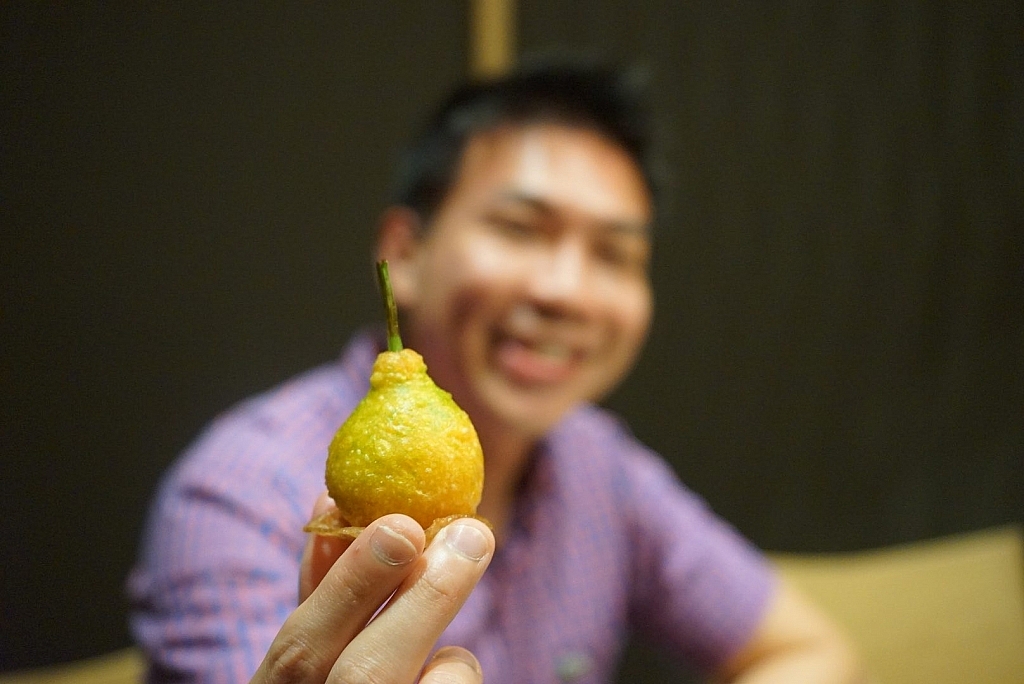 Up next was Poached Bamboo Clam from Scotland with Cabbage and Fungus in Fish Broth ($20).  Despite its modest appearance, this milky soup packs a serious flavour. To make this dish, the catch of the day was selected and simmered for more than two hours to extract collagen from the fish. The broth was then double boiled with the addition of Cloud Ear Mushroom and Tianjin cabbage. Finally, the clam is delicately poached in the sweet broth to bring out the vibrant flavours of each distinct ingredients.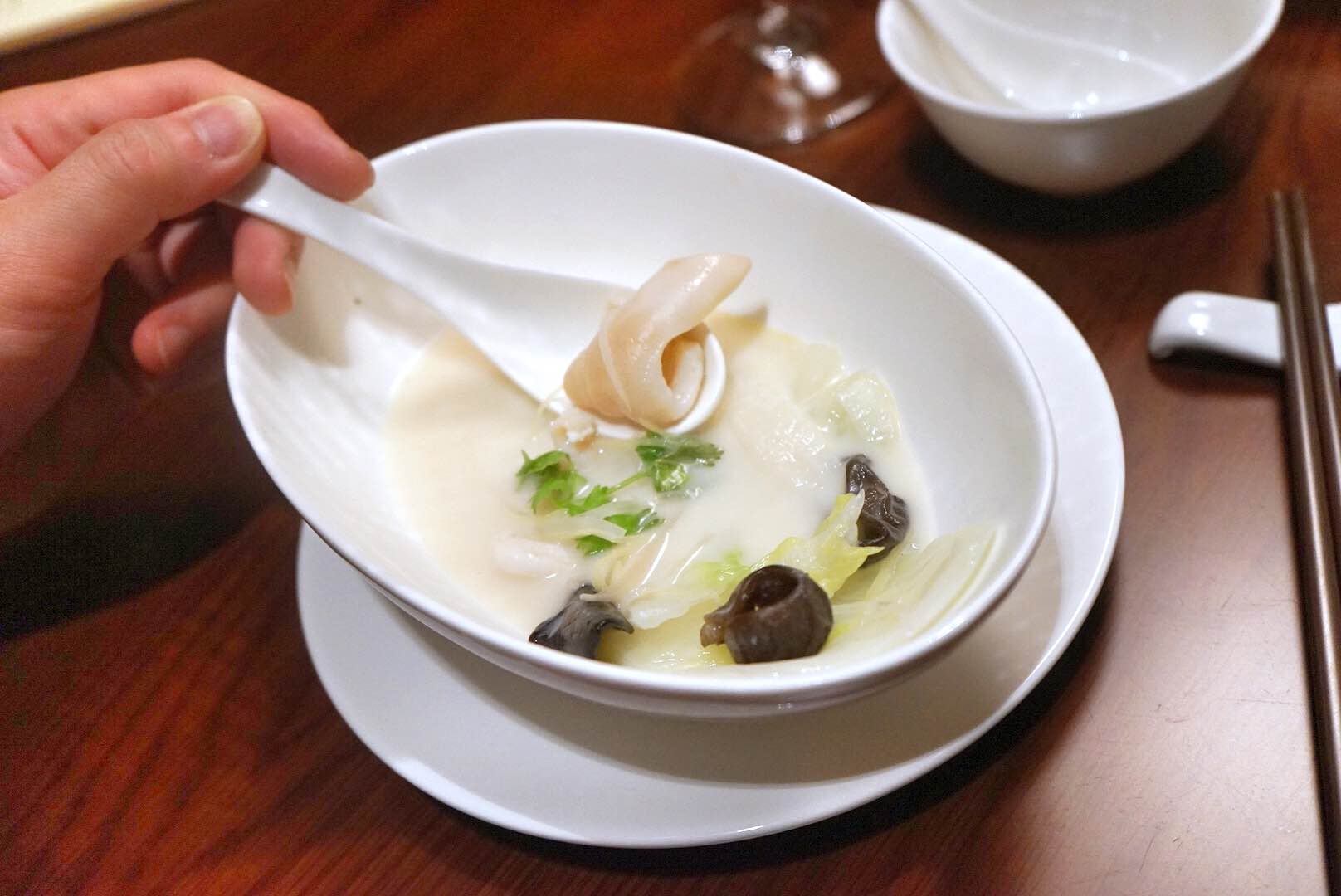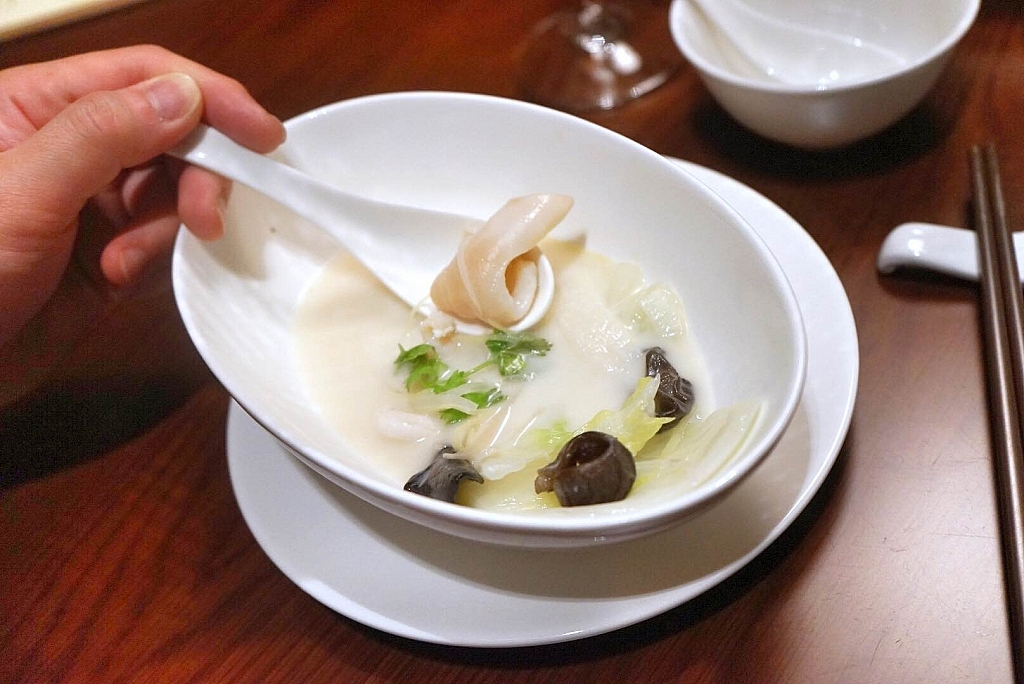 Next, we came face to face with probably the largest prawns we have ever seen and it has been prepared in 2 different ways! Introducing the Deep Fried King Prawn Head & Sauteed Prawn with Asparagus topped with Japanese Sakura Ebi ($34)! The body of the prawn is cooked in a blend of Chef's spices and served with Asparagus and Japanese Sakura Ebi for a rich umami flavour.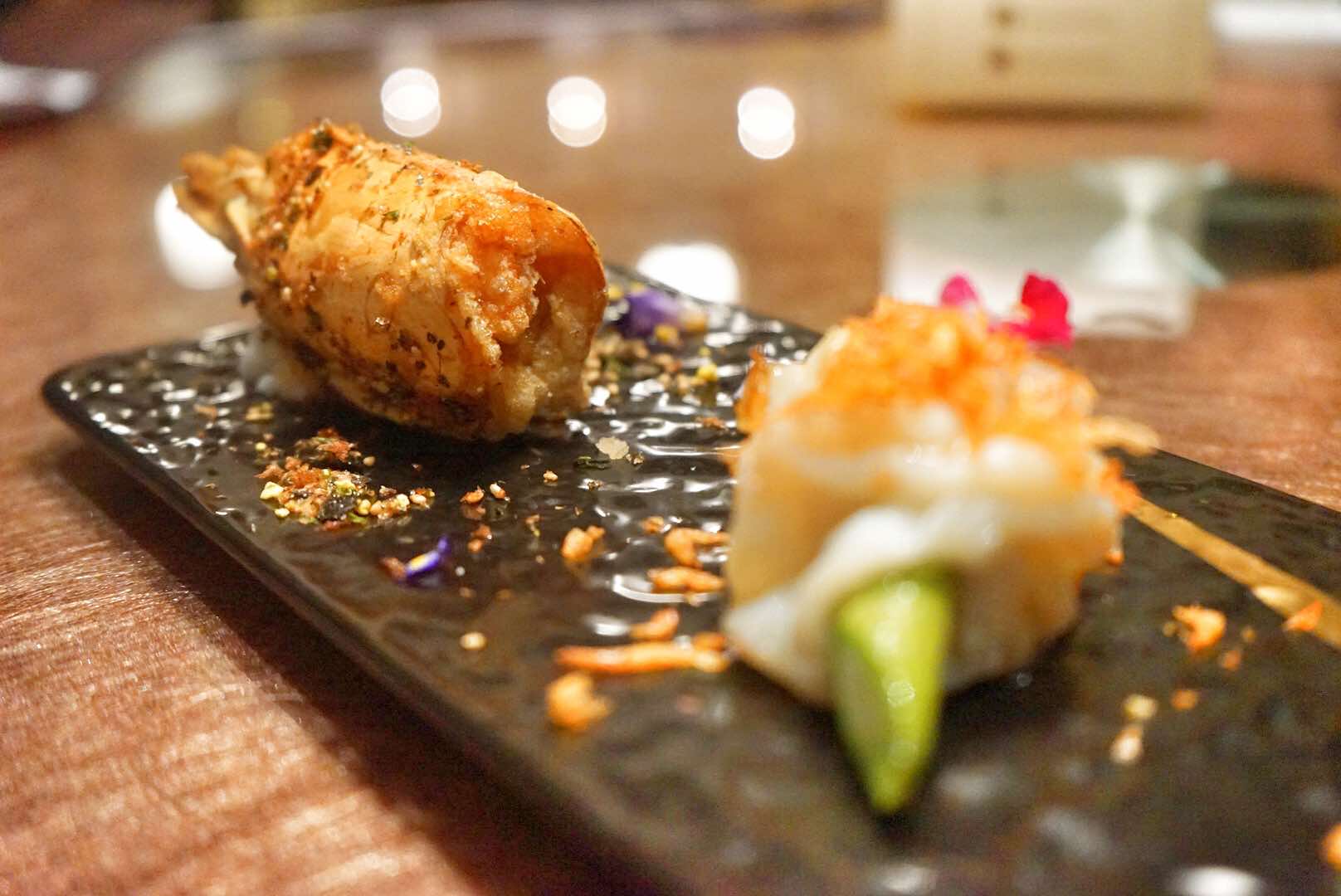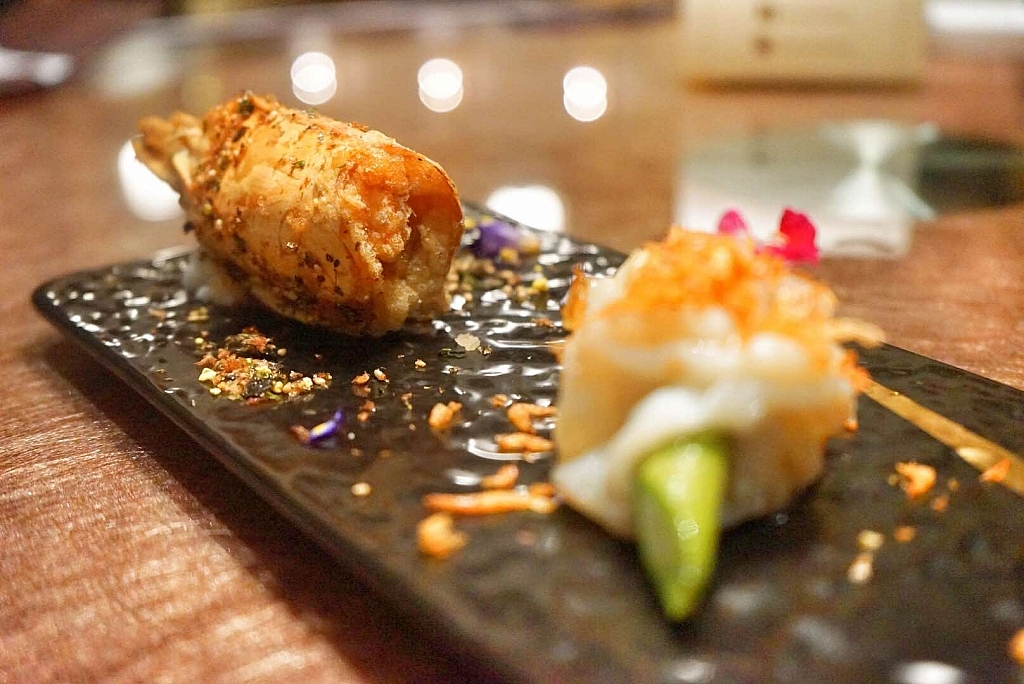 The best part of the dish has to be the crunchy Deep-Fried Tiger Prawn head. Its delicious shell crackles with each bite and we almost went crazy when the creamy roe was revealed. The roe delivers amazingly rich flavours as though you are savouring a prawn soup concentrate.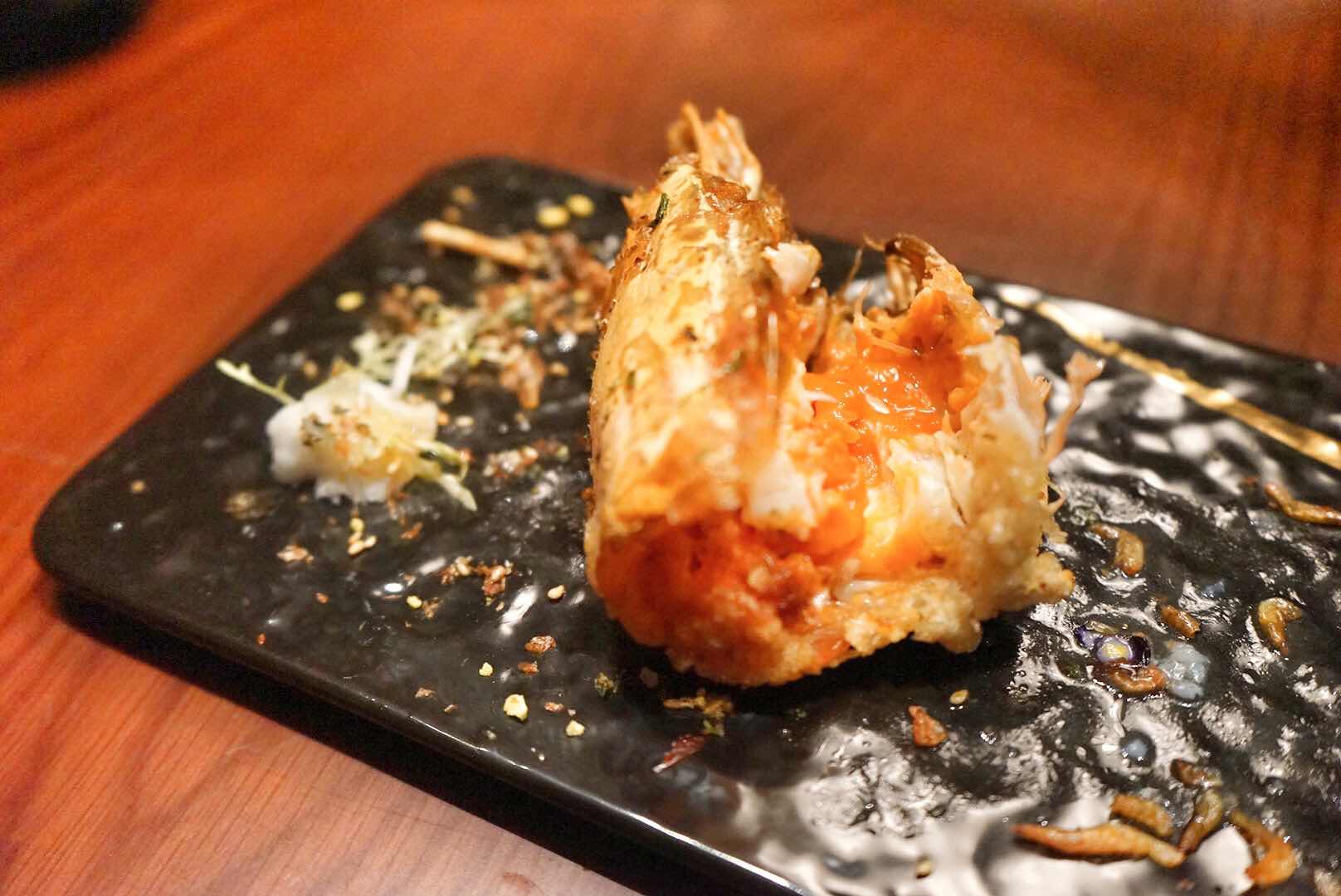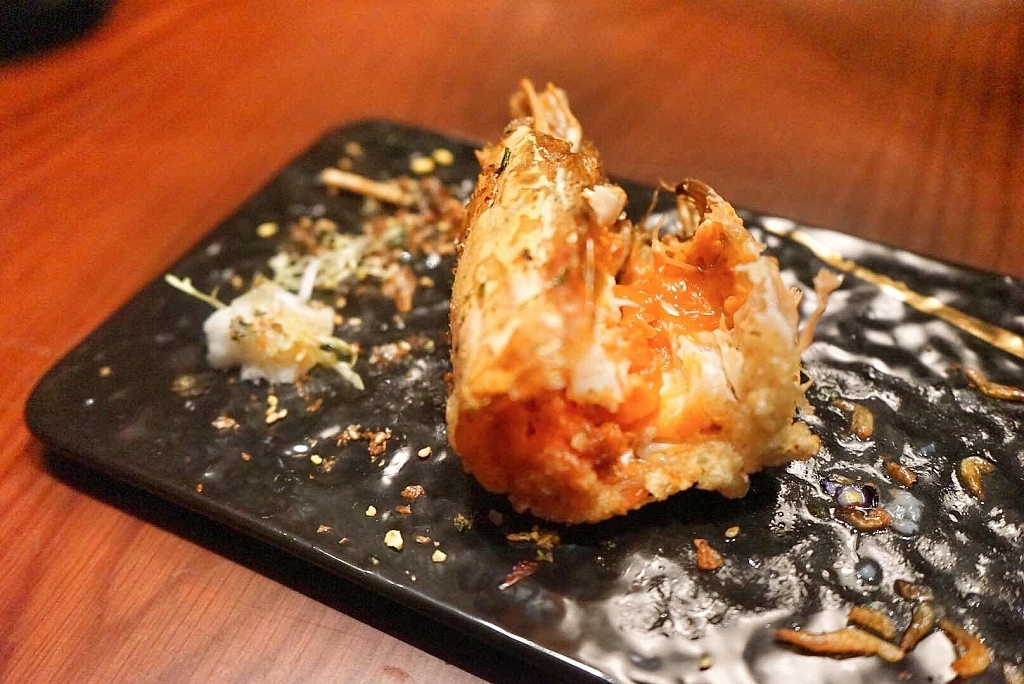 The last dish was served with a bit of a theatrical effect. It was served as a secret dish enshrouded in a thick layer of mist.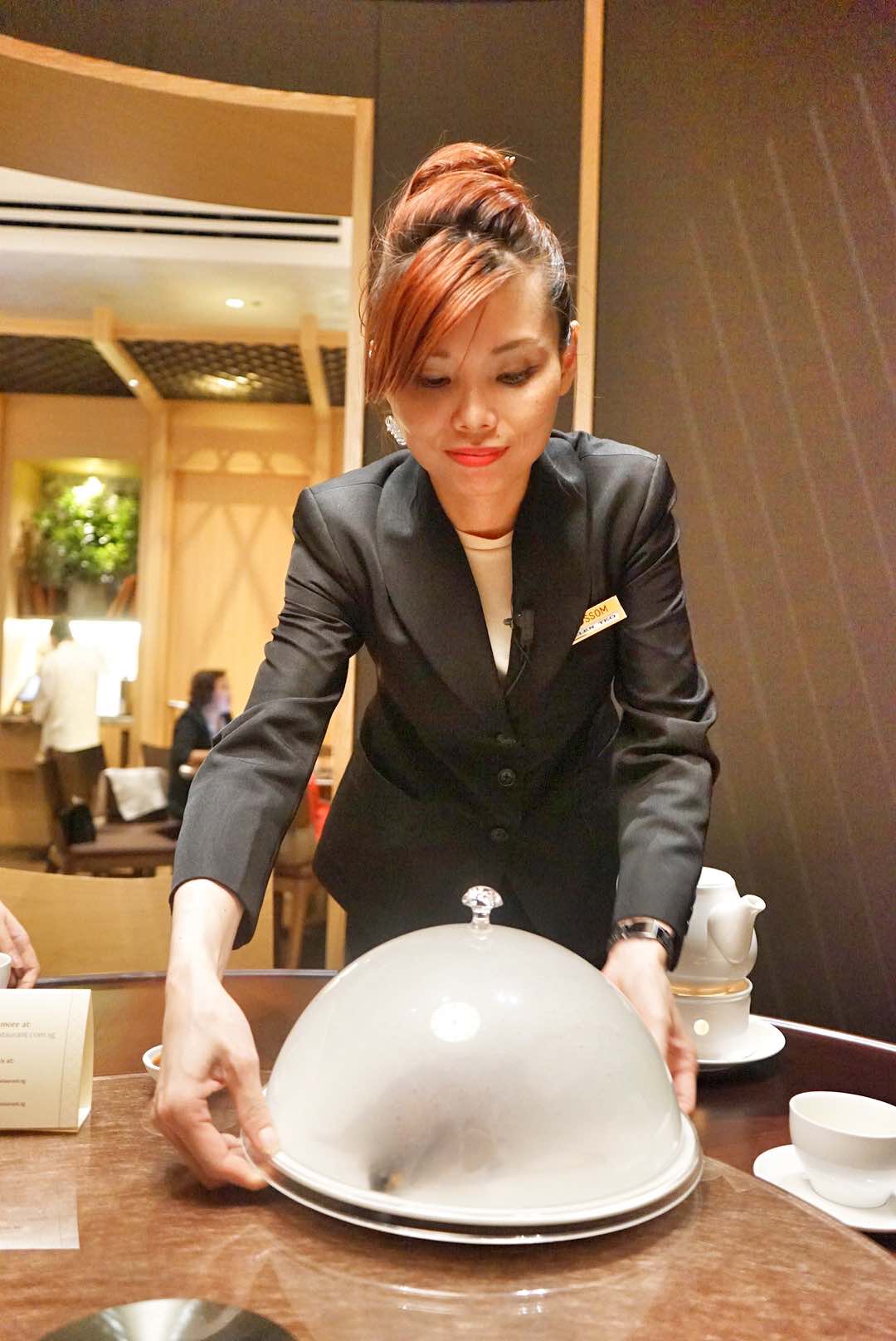 Behold the Royal Secret Recipe Smoked Duck ($40 Half & $80 Whole), Pu-Er Tea from Yunnan and Chrysanthemum from Zhejiang are combined to first marinate the duck to prepared it for smoking.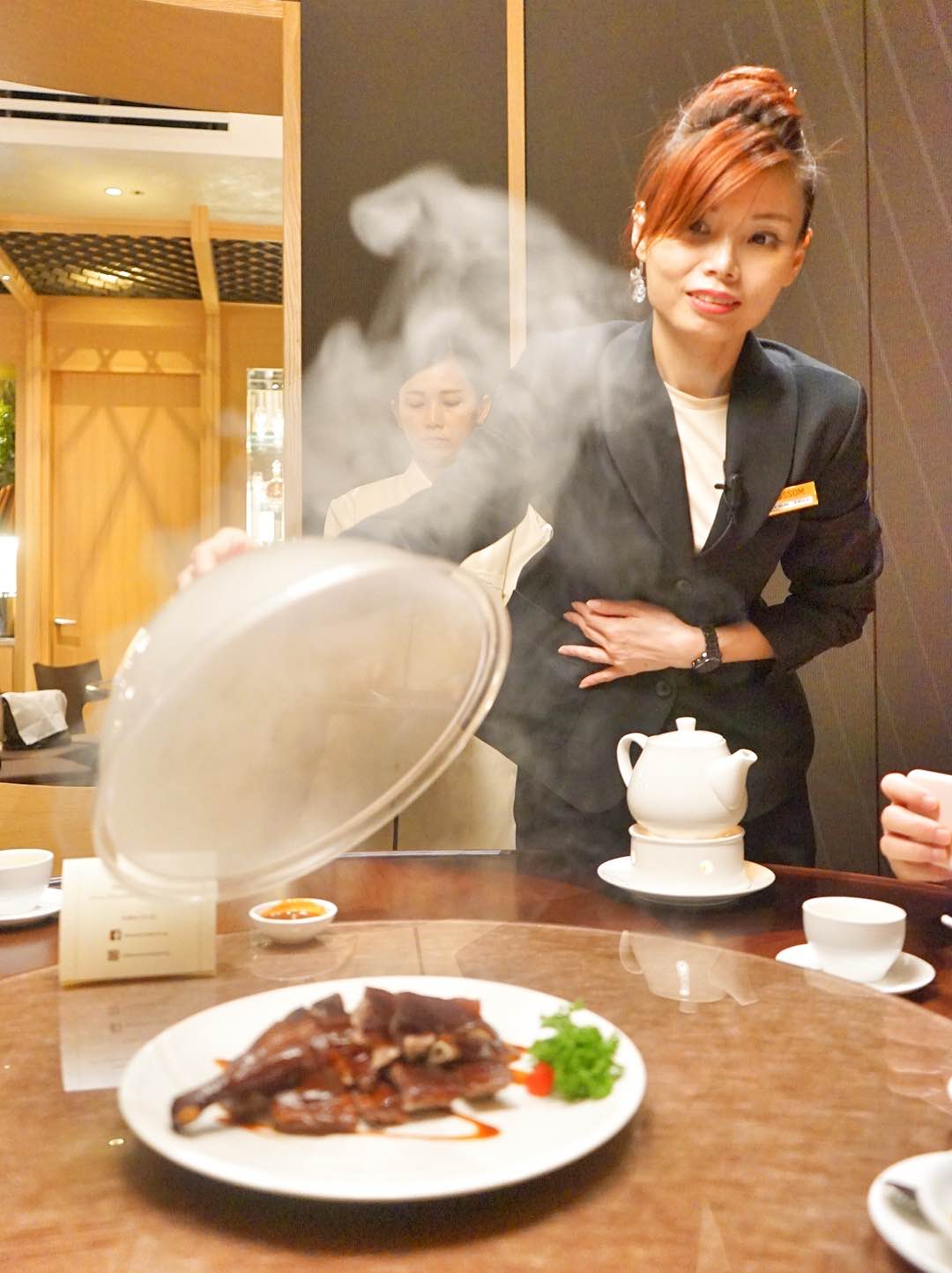 The duck had the right balance of lean and fats. What really sets it apart from both roasted duck is the infused fragrance of the Pu-Er tea and chrysanthemums in every bite. This is definitely one of the highlights of the dinner.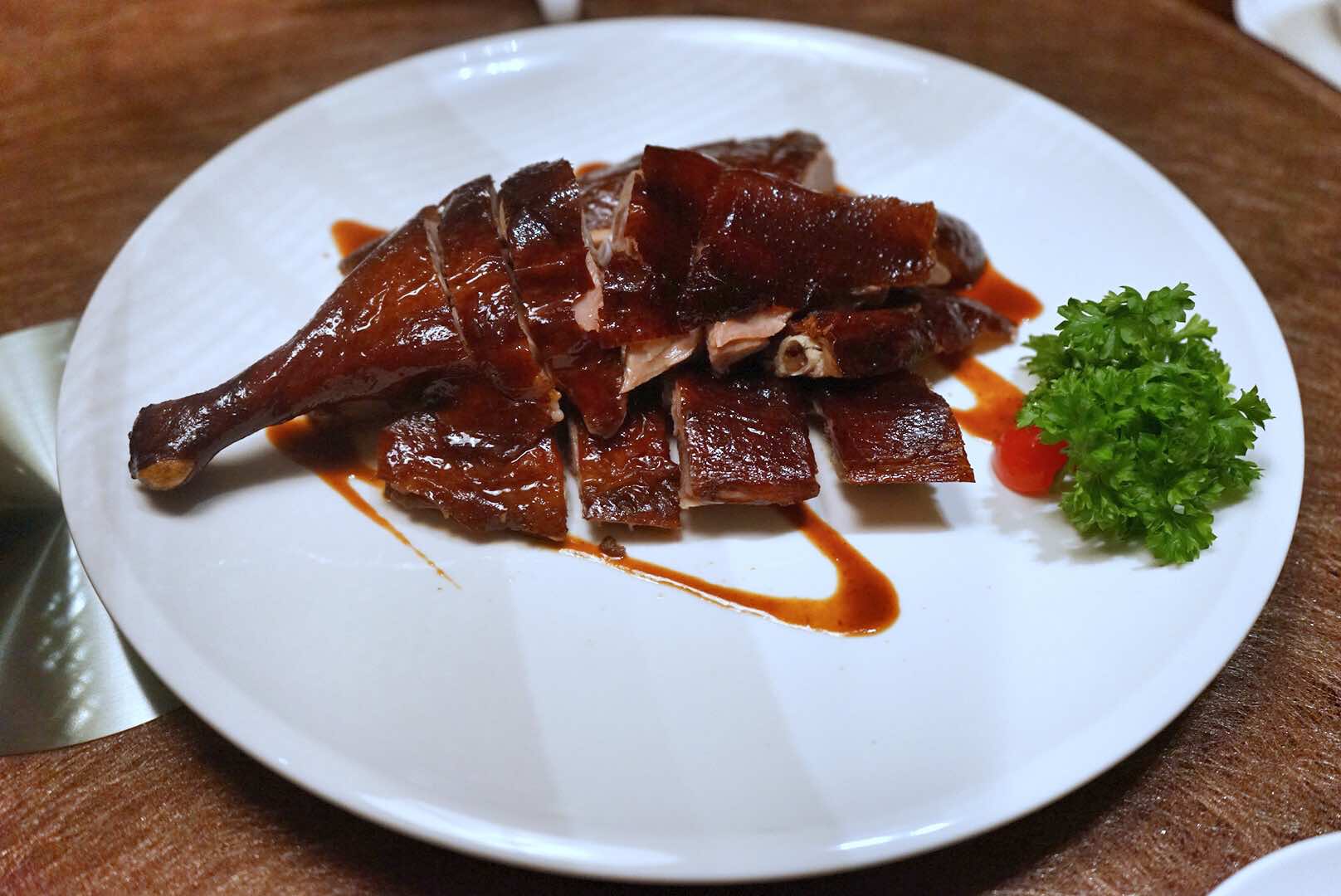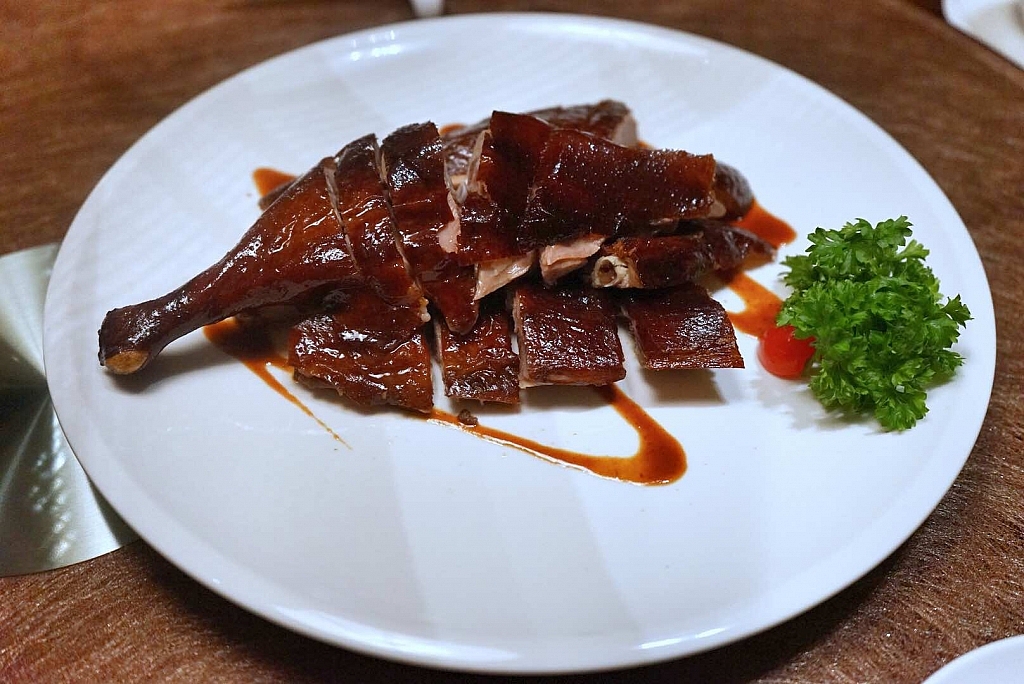 The two pax feast was rounded up with sweet desserts. The Chilled Glutinous rice with ice cream served in coconut ($15) was quite ordinary but the Chilled Lemongrass Jelly and Sour Plum with Lime ($10) offered another great opportunity for photos and videos sharing with its dramatic steam effect.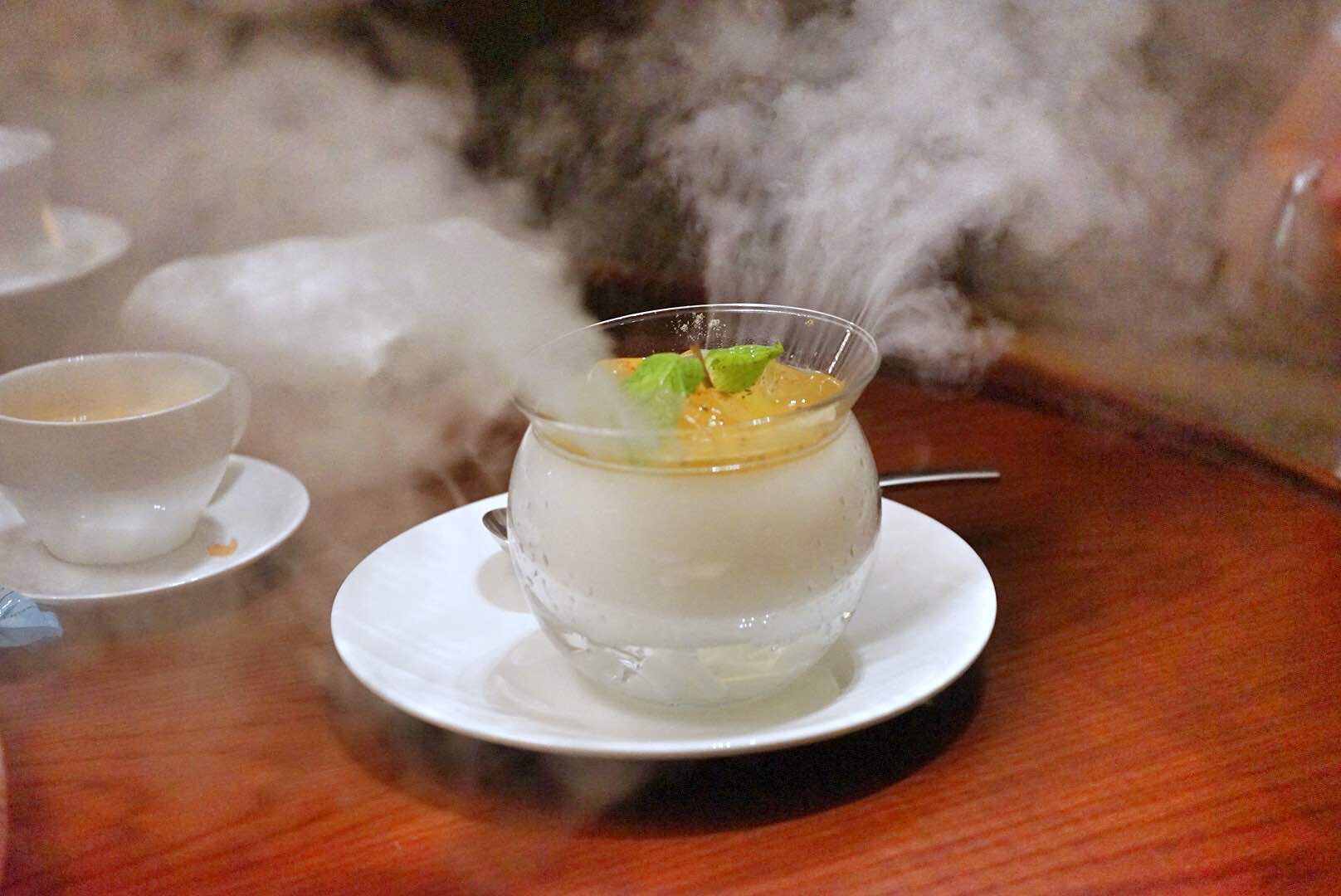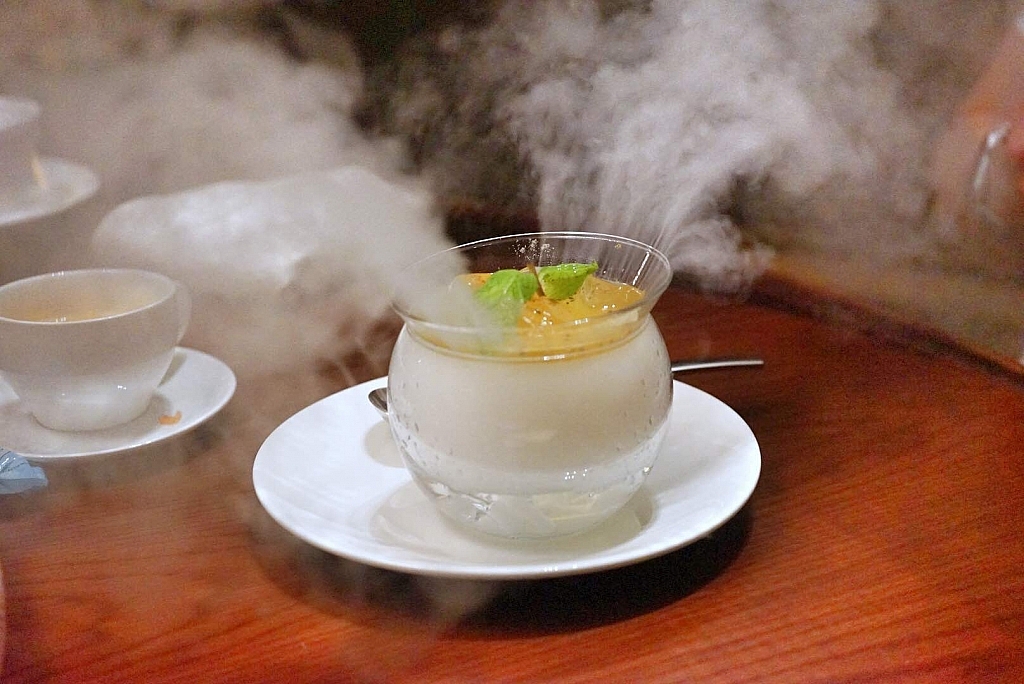 Blossom Restaurant Singapore – Other Recommendations 
Given that there is only 2 of us, we were not able to stomach all of Blossom's delicacies, here are some of the other dishes recommended dishes for your consideration.
1. American Black Angus Beef Ribs glazed with N.Z Wild Honey
The hand-selected American Black Angus Beef ribs literally fall off the bone after five hours of meticulous temperature controlled braising. The Chefs' secret combination of ten ingredients including spices resulted in the well-balanced delectable marinate. The brush of the sticky wild honey from New Zealand gives the meat the glistening finish.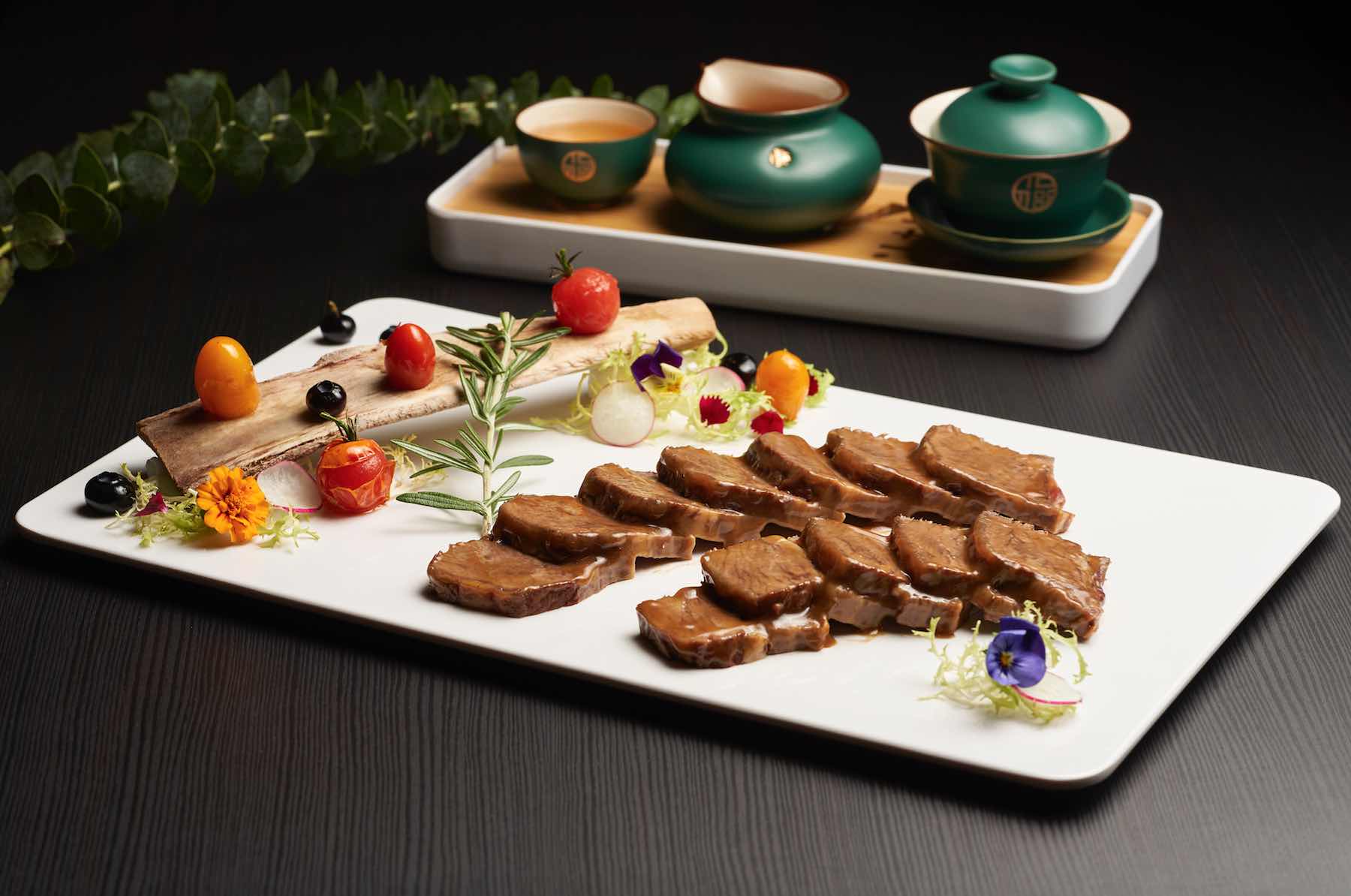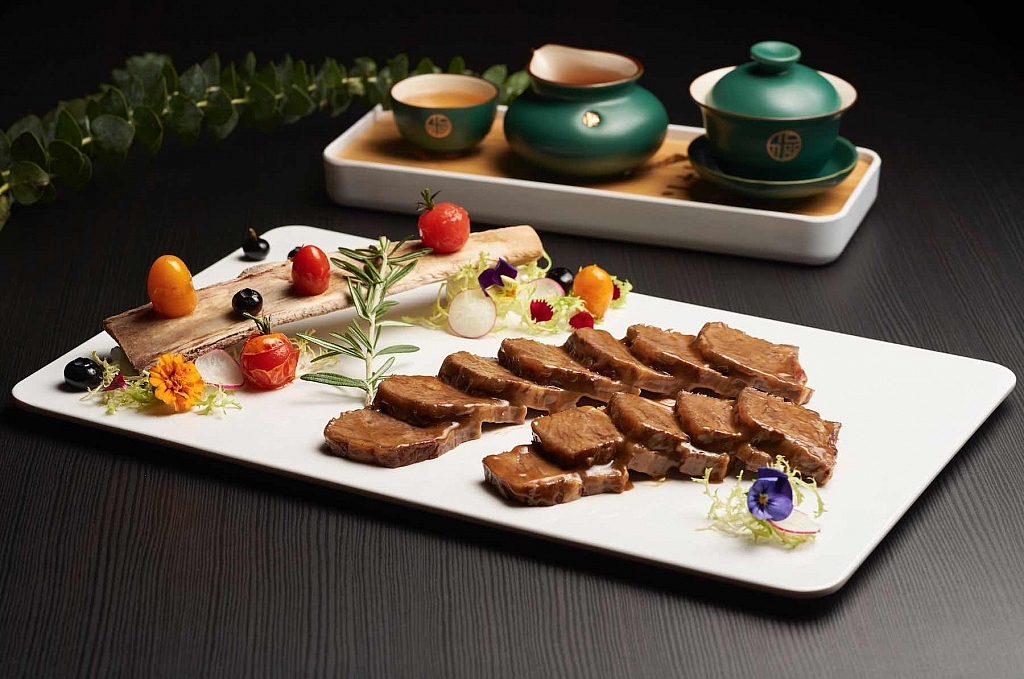 2. Smoked chicken with 15-year-Pu-Er Tea-leaves and Chrysanthemum
Smoking, an ancient cooking method, is refined at BLOSSOM. Using a precise temperature controlled smoker, the organic chicken is presented to diners with a golden crisp skin and tender meat. The delicious marinate of herbs, spices, the naturally fermented aged Pu-Er and the fragrant Chrysanthemum tea permeate each morsel of the chicken. The undoubtedly delectable perfumed smokey flavours, the nourishing elements from the tea and the secret blend of herbs brings this dish together beautifully.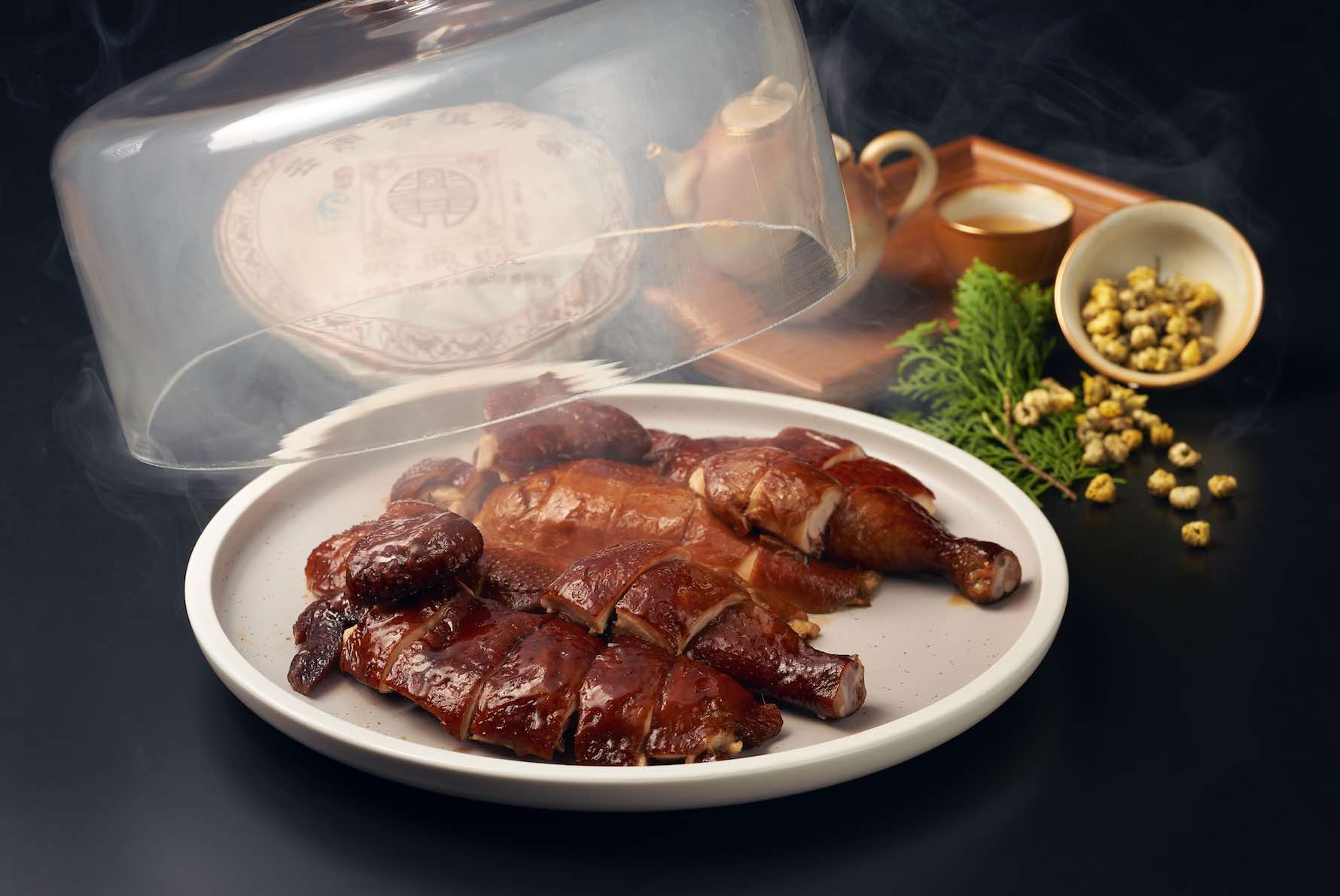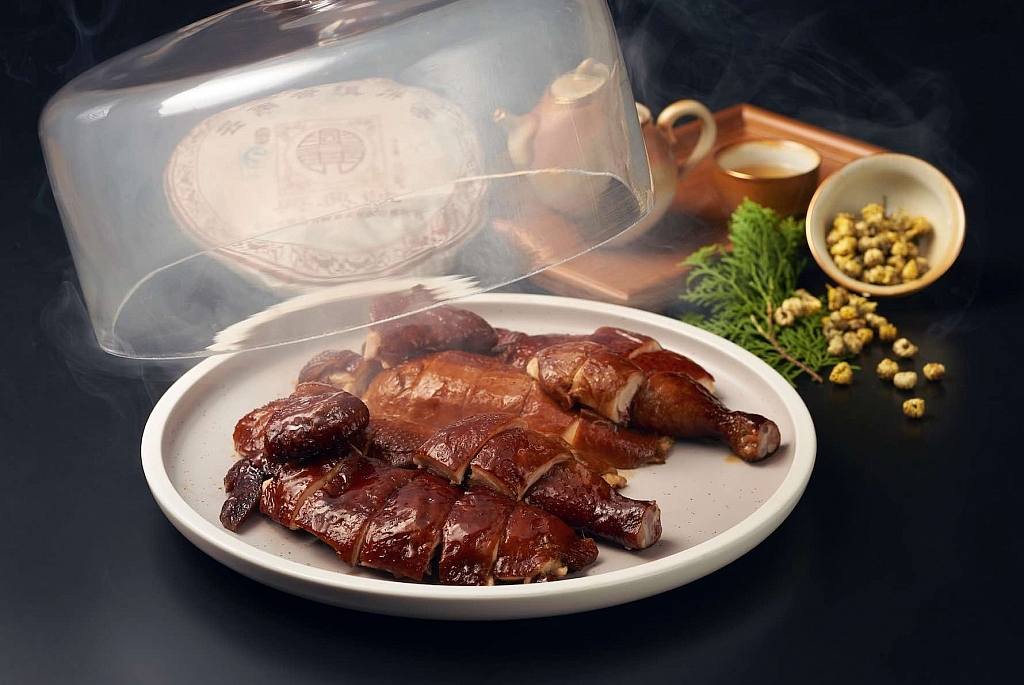 3. Firecracker Soft Shell Crab
The fragrant and fiery crispy soft crab is a glorious dish packed with aromatic spices and natural goodness of the flaming ingredients. A true celebration of Sichuan's affinity to heat, the crabs are deep-fried to perfection and immediately placed on a bed of ruby red chilis to fully infuse the addictive flavours.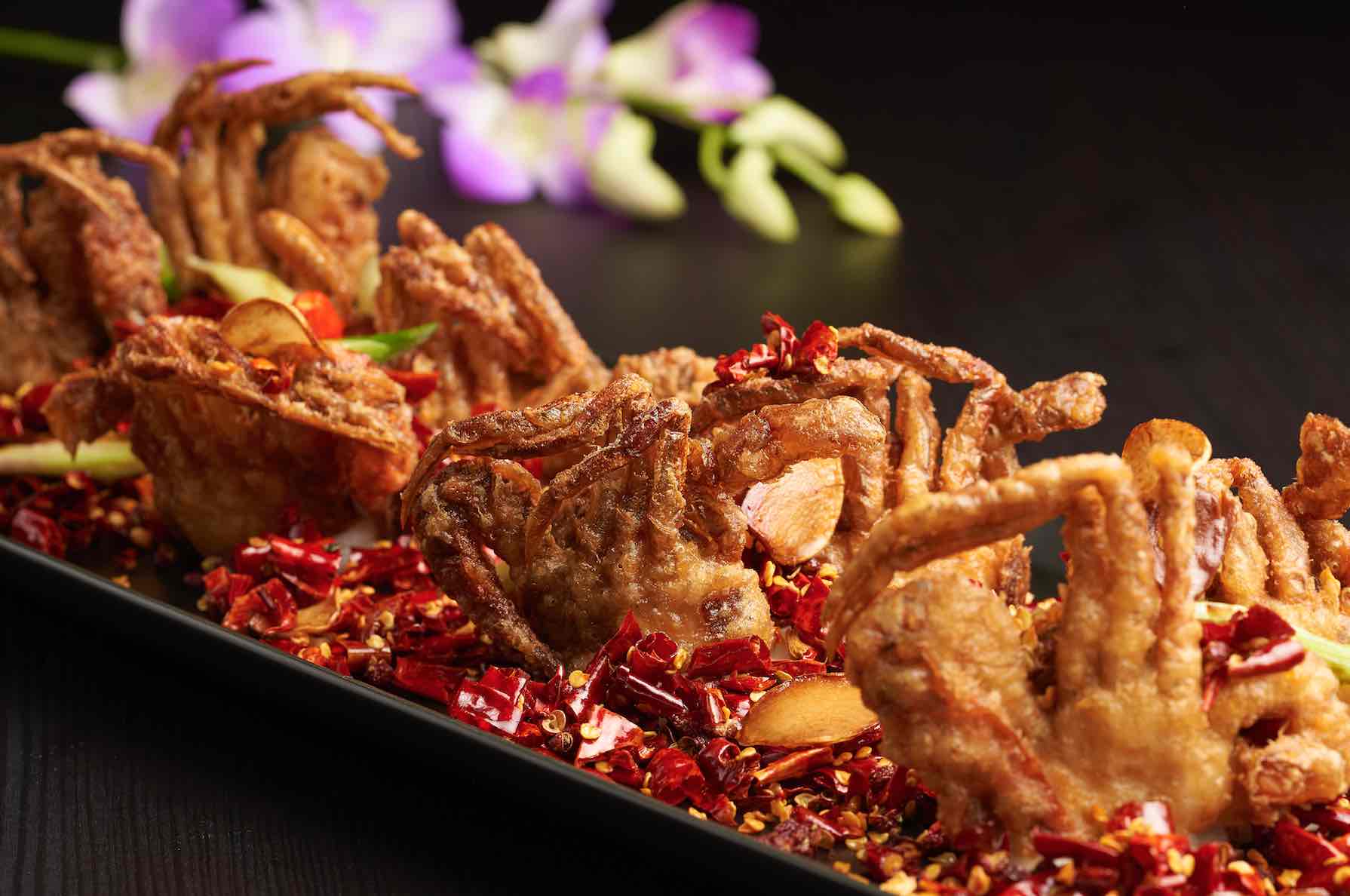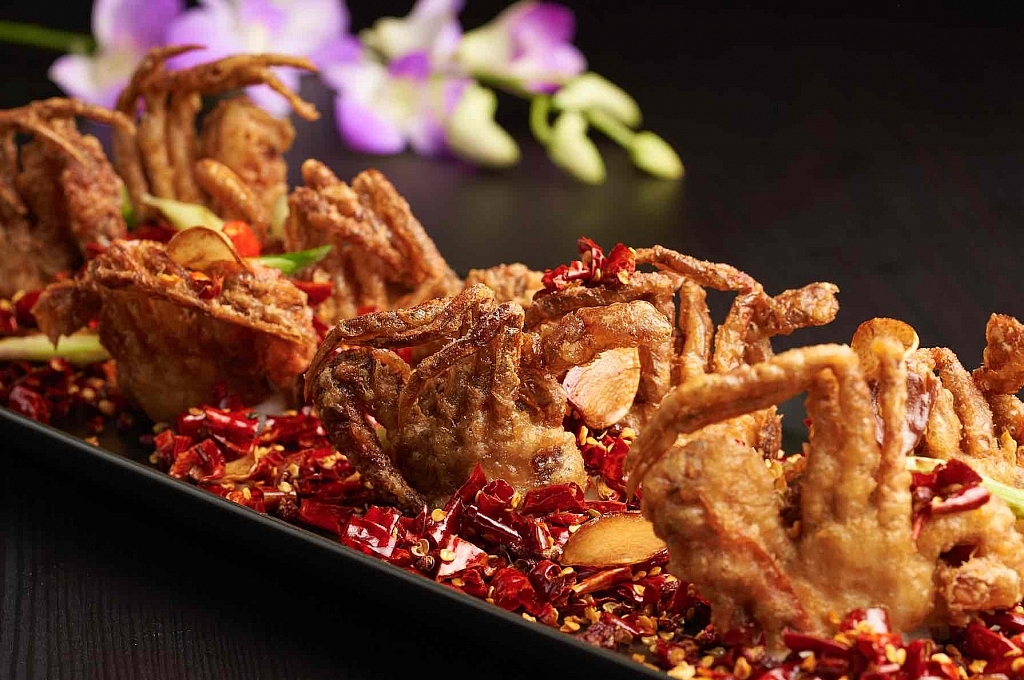 4. Lobster Steak with Caviar
The kitchen exclusively uses Boston Lobster for this dish. The clear icy waters of Canada, according to the Chefs, is home to some of the world's highest quality and most luscious lobster. The naturally decadent lobster is delicately pan-fried and within minutes of touching the heat, releases its natural sweet flavours. A delicate layer of exquisite caviar makes this dish a luxurious gastronomical experience.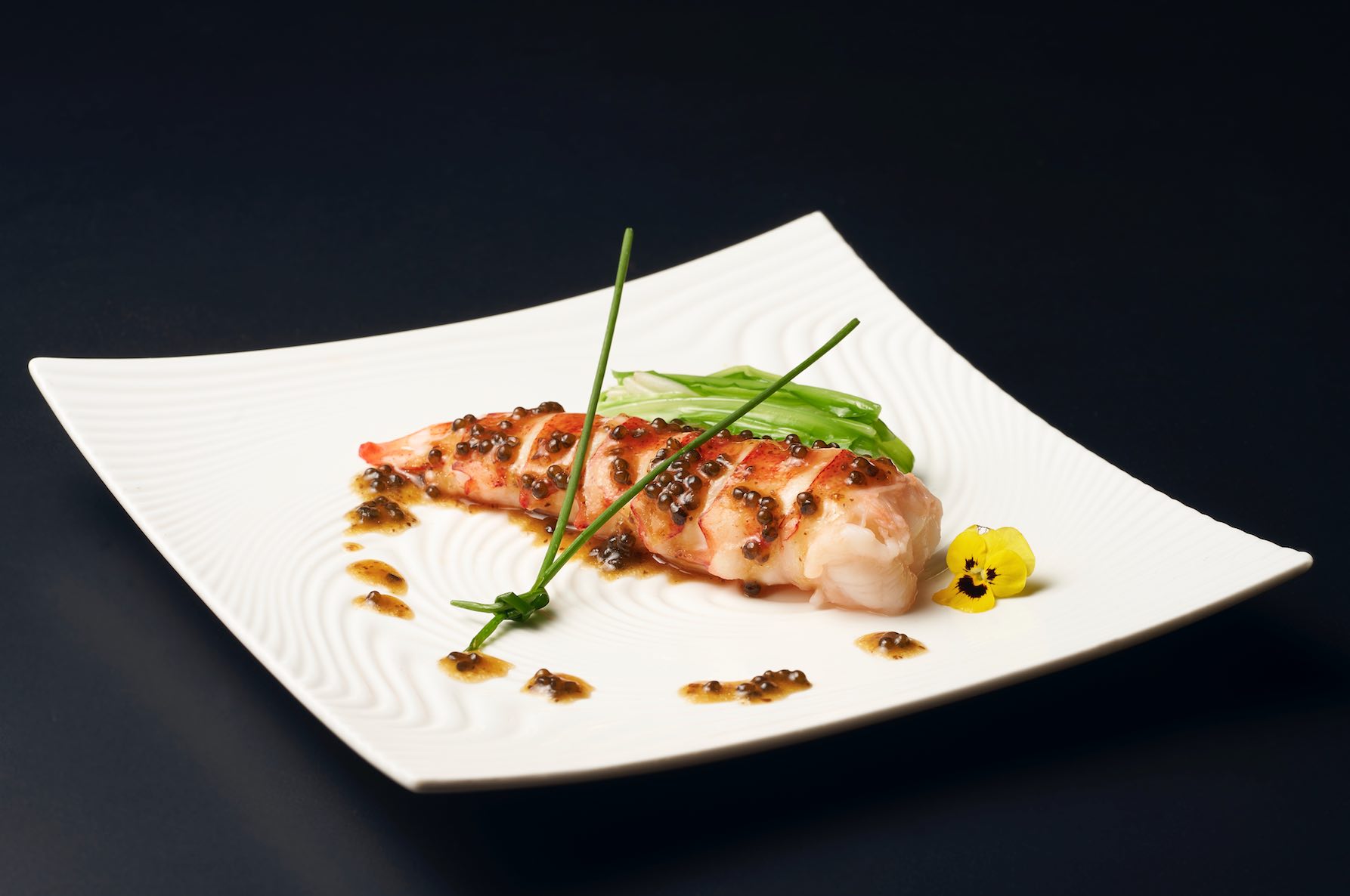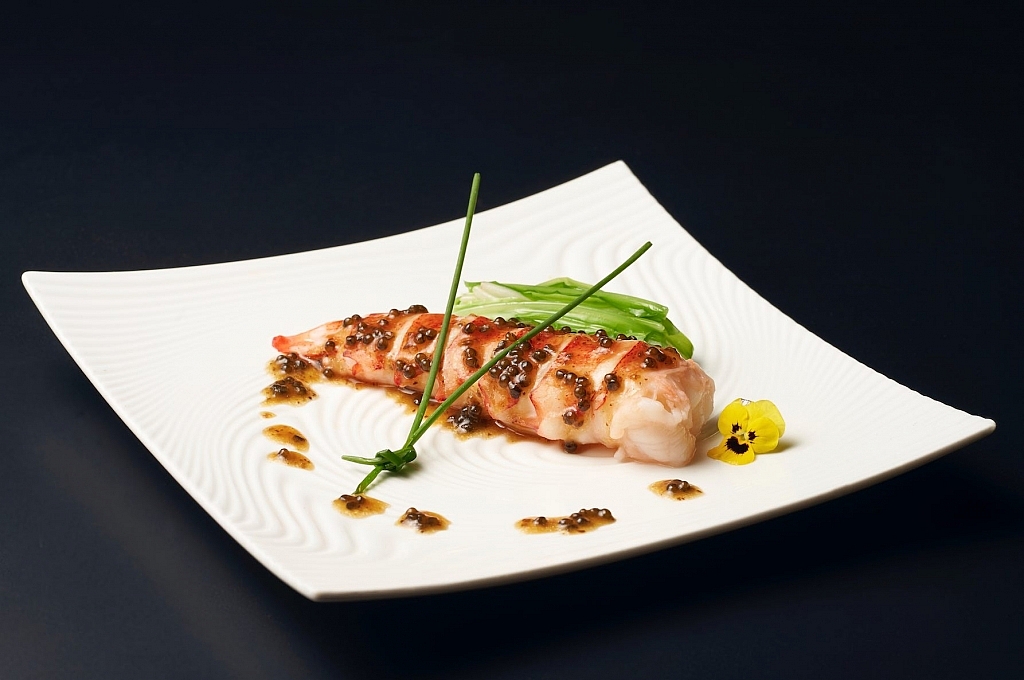 5. Braised 4-Head South African Abalone 
Blossom's selection of plump juicy prized Abalone is sublime. Gently braised, each abalone dish is served with its own distinct sauce. Painstakingly prepared with their closely guarded blend of spices, each sauce takes hours to achieve heavenly perfection.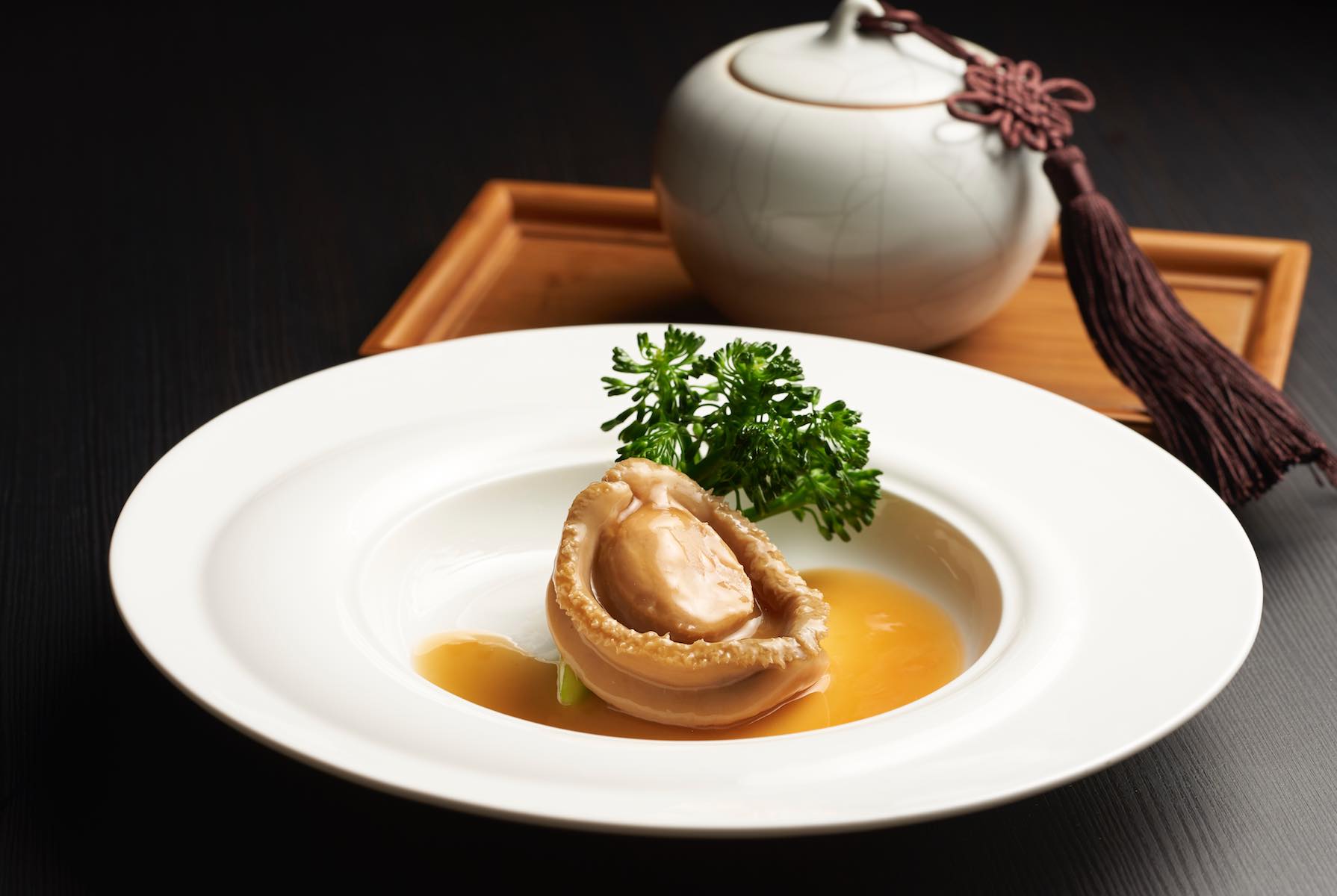 6. Stir-fried Birds' Nest with Fresh Crab Meat
Bird's nest has always been a prized ingredient has been relished over centuries because of its nourishment benefits. At BLOSSOM, the Chefs source wild bird's nest, sustainably sourced, from the cliffs of Indonesia. The delicacy is stir-fried with Japanese bean sprouts and infused with the sweet crab meat. The dish is accompanied with a superior broth simmered for more than eight hours.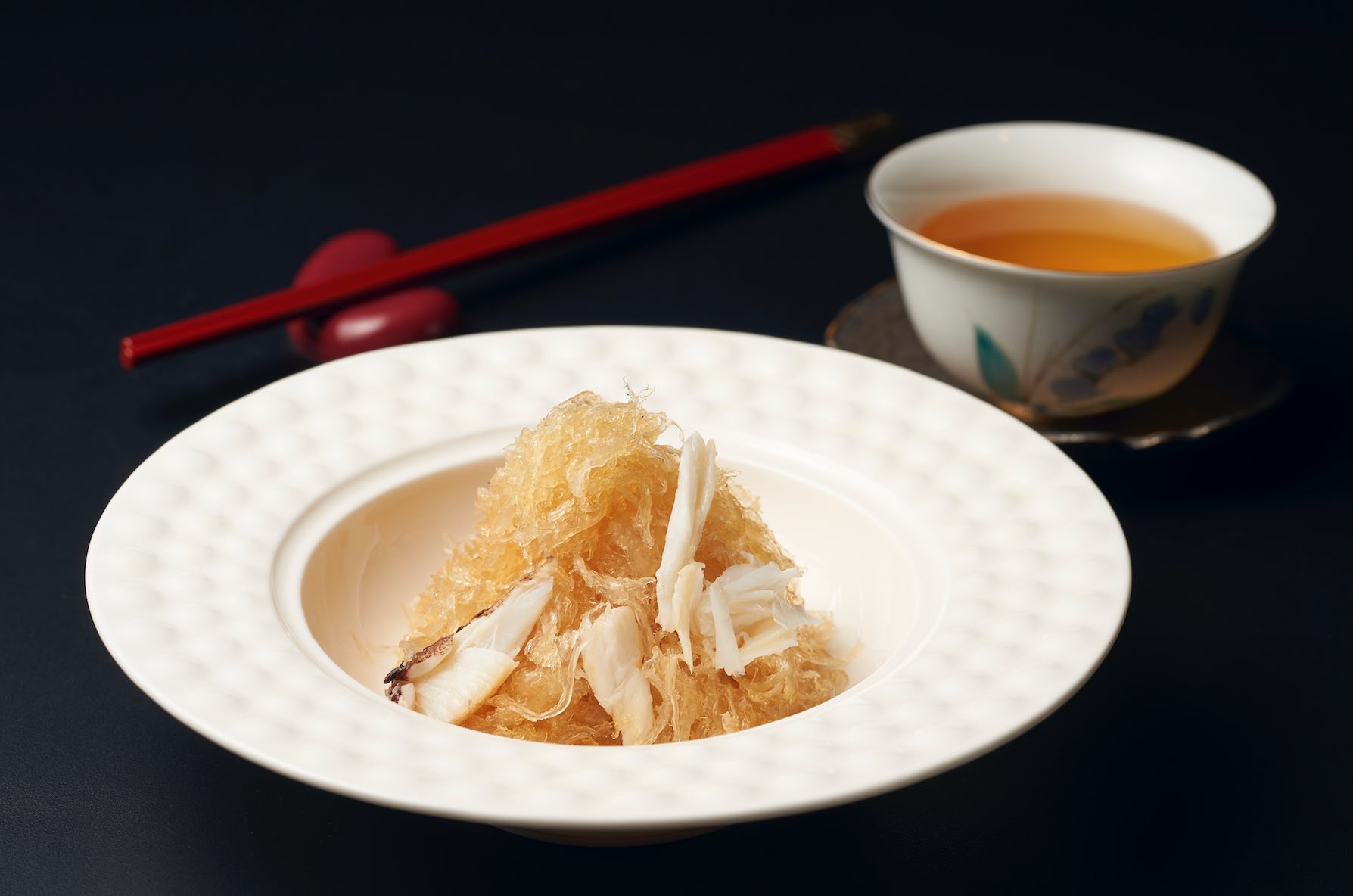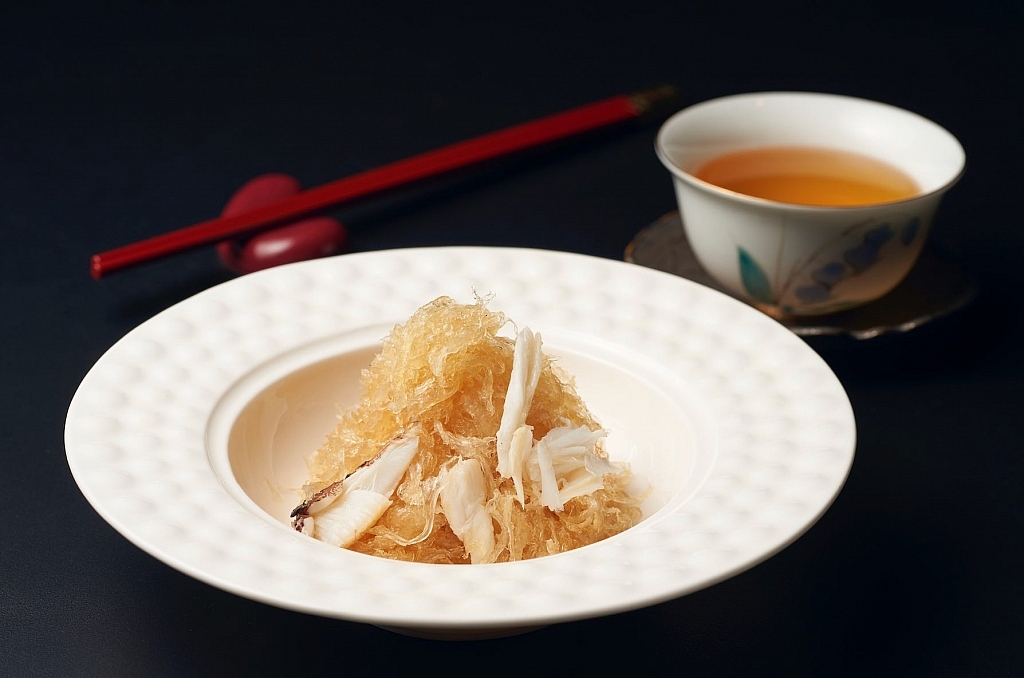 7. Blossom Peking Duck
Last but not least, you must try their majestic Peking Duck. The deep caramel skin of the 60-Day old duck crackles with each slice. Both Chefs employ a very detailed and thorough preparation ritual. The organic duck is marinated for an entire day before it enters the roaster. The result is absolute perfection. The delicious, glazed crispy skin, is not too greasy, and the slow-roasted fragrant meat beneath the thin layer of fat is tender and moist. Served with warm paper-thin crepe, strips of crispy cucumber, raw sugar cane, selection of tart raspberries and slightly bitter pomelo. But it's the home-made Hoisin sauce that makes each bite utterly sumptuous.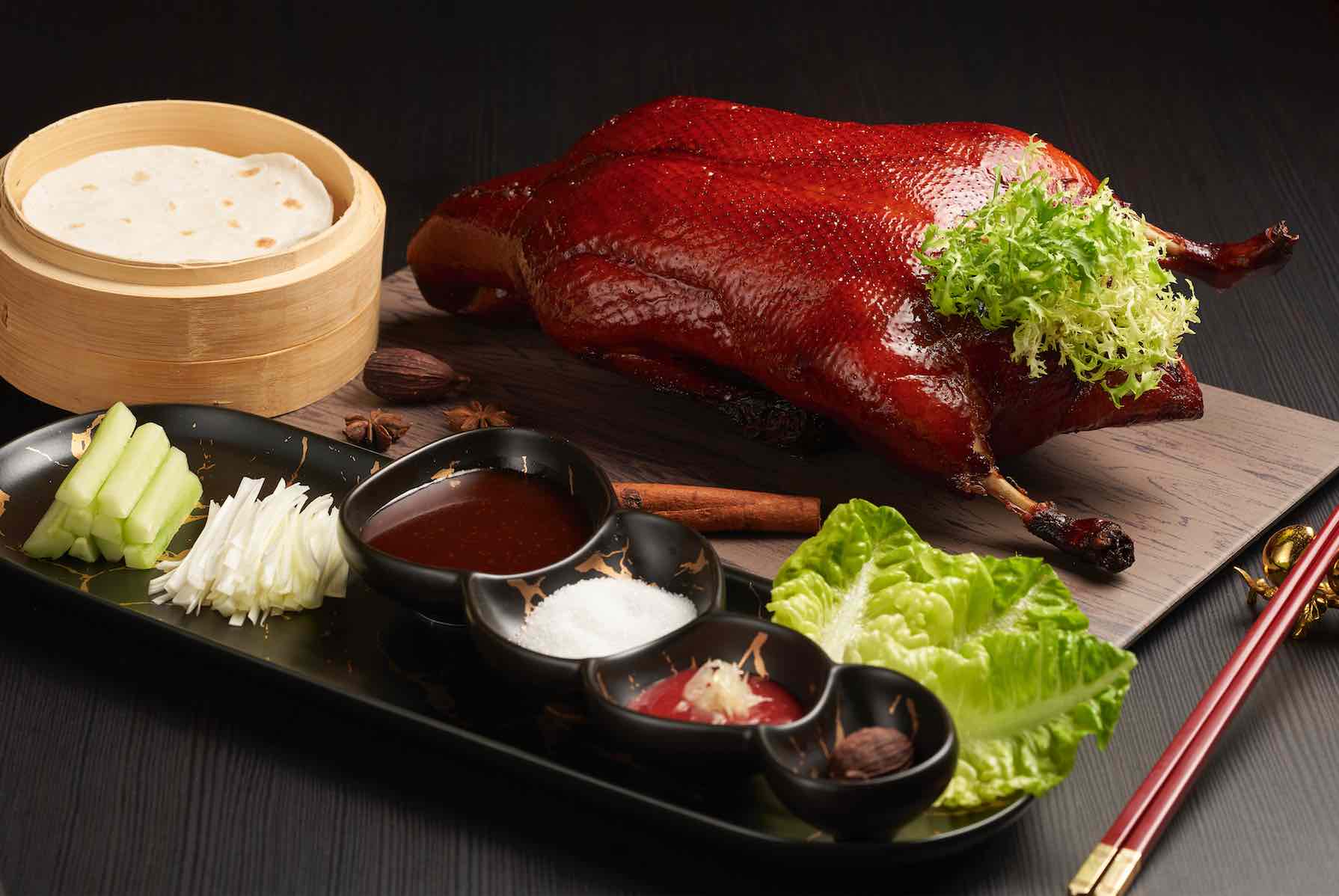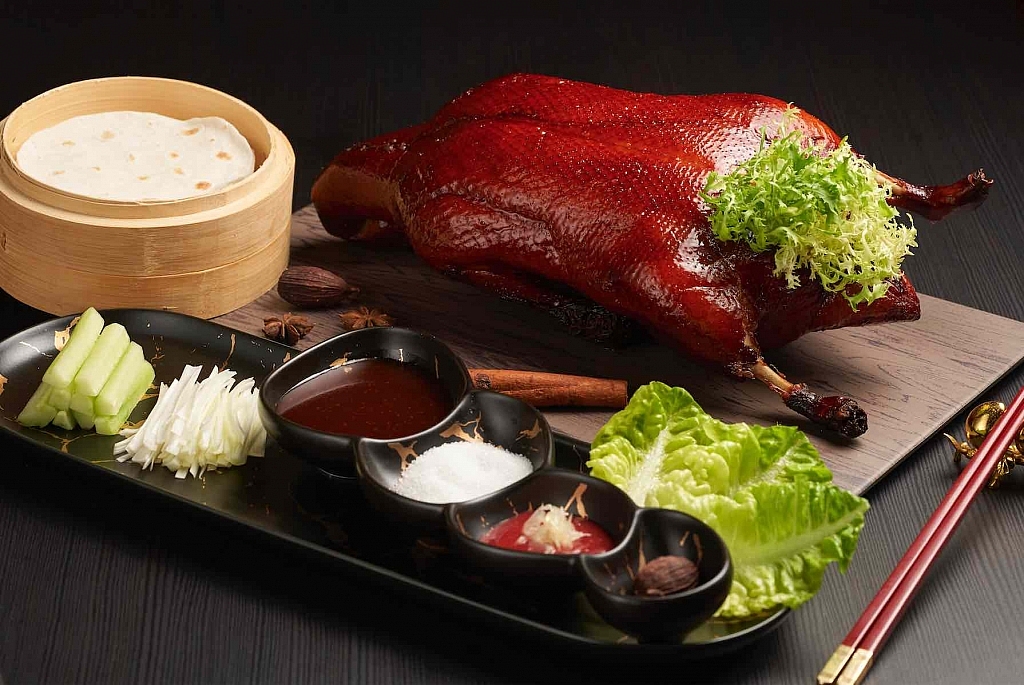 Blossom Restaurant Singapore
Address: Hotel Lobby, L1-05, Marina Bay Sands, 10 Bayfront Ave, Singapore 018956 | Opening Hours: 11.30am to 11pm (Mon – Fri) & 11am to 11pm (Sat, Sun & PH) | Website: blossomrestaurant.com.sg | Facebook: blossomrestaurant.sg | Instagram: @blossomrestaurant.sg