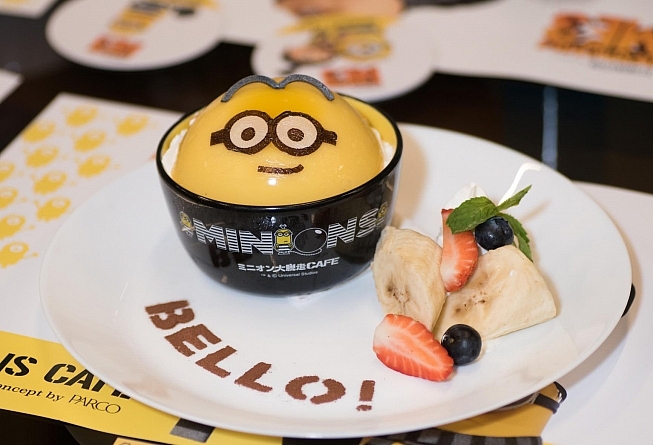 Minions Cafe Singapore Opens At Orchard Central For Limited Time Only
Minions fans have a reason rejoice this festive season! Minion Cafe with its stellar records of over 173,000 visitors across five locations in Japan opens at Orchard Central for a limited time only! The Minions Cafe operated as the "The Despicable Me 3 Cafe" in Japan at five "THE GUEST cafe&diner" outlets located in Tokyo, Osaka, Nagoya, Sapporo and Fukuoka during July and September this year. PARCO (Japan) and PARCO (Singapore) will be operating Minions Cafe Singapore which is also the 1st cafe out of Japan at Orchard Central from 23rd November 2017 to 31st January 2018!
Showcasing Illumination's Minions as the main characters, fans will get to choose from a total of 14 original themed food & beverages on the cafe's menu. These items have been specially conceptualized by "THE GUEST café&diner" for the Minions Cafe and were inspired by Illumination and Universal's Despicable Me 3. The cafe routinely changes its concepts every two to three months through a pop-up model, and the theme is based on popular characters, artistes, movies and culture. With an exciting array of adorable Minion-themed dishes, it can be a struggle to choose. Here are some of the items from the menu to whet your appetite!
1. Minion Pop-up Cafe Singapore – Minion Great Escape Cream Stew ($20.90)
In the latest Despicable Me 3 film, Minions are caught and imprisoned! Oh no! This time, they are really in the cream stew! The dish is accompanied by a mini salad.
2. Minion Pop-up Cafe Singapore – Minions Vacation Plate ($23.90)
Aloha! Scoot off to Hawaii with Minions and indulge in the Hawaiian luau inspired plate of beef hamburg and garlic shrimp, accompanied by tropical pineapple and luxurious avocado. Margo, Edith and Agnes certainly thought this dish was a great idea for a honeymoon's set-up for Gru and Lucy! It comes with a green soup of Gummi Bears and meat, courtesy of darling Agnes.
3. Minion Pop-up Cafe Singapore – Minion Pudding ($24.90)
This Minion is too cute to be eaten! Mango pudding with fruits and vanilla ice cream within. The FREE Character CUP is the reason for the slightly hefty price! Limited Quantities, While Stocks Last.
4. Minion Pop-up Cafe Singapore – Caramelized Banana ($16.90)
Minion's favourite food…. Banana! Torched lightly to create a smoky caramelized taste. No wonder Minions want some too!
5. Minions Cafe Singapore – Be Bad Café latte (Ice / Hot) ($9.50 for Ice & $8.90 for hot)
Minion commands you to Be Bad. Drink up and obey!
6. Minions Cafe Singapore – Banana Smoothie ($12.30)
Minions' favourite banana used in abundance to make this chilly banana smoothie, topped with a snoozy Minion mango ice.
Besides fun menu, exclusive MINIONS CAFE original products, currently not available anywhere else in the world, can be purchased alongside other Despicable Me 3 official merchandise. This offers you the opportunity to own unique movie merchandise to complete your MINIONS CAFE experience. Illumination and Universal's Despicable Me 3 Blu-ray and DVD is also out in stores now. 
Minions Cafe Singapore – a concept by PARCO
Pop-up Period: 23 Nov 2017 – 31 Jan 2018 | Address: 181 Orchard Road, Orchard Central, #03-23/24/25, Singapore 238896 | Opening Hours: 11am – 9pm (Last order) | Café theme: Despicable Me