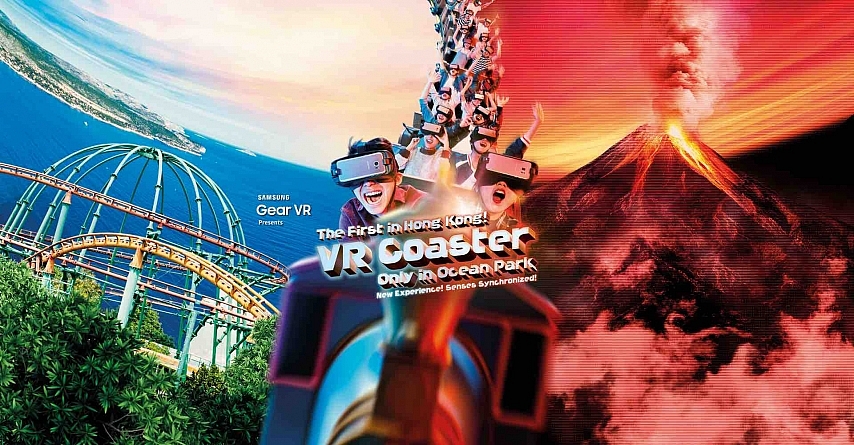 Ocean Park Christmas Sensation: Hong Kong 1st VR Rollercoaster & More
Hong Kong Ocean Park is set to welcome a galore of festive activities with its annual celebration, Ocean Park Christmas Sensation! From 11 December 2017 to 1 January 2018, the entire park will be decked out with festive decorations paired with artificial snow, including its iconic giant 40-foot Christmas tree, a Santa's house and Christmas garden to create a romantic Christmas village. Headlining this year's celebration is the first-ever virtual reality (VR) roller coaster in Hong Kong. The Park will also partner with Pinkoi.com, Asia's leading online marketplace for designers, to present Ocean Park x Pinkoi Festive Marketplace for the first time. Adding to the excitement, a variety of exclusive Christmas menus and festive treats will be offered.
Ocean Park Christmas Sensation – Hong Kong 1st VR Rollercoaster
Mine Train, one of Ocean Park's iconic rollercoaster rides, will receive a VR update, making it Hong Kong's first VR rollercoaster.
With Mine Train presented by Samsung Gear VR, you can put on special VR headsets and feel a surge of multi-sensory excitement during the ride. The hyper-realistic world of virtual reality will take riders on a breathtaking journey – through a rainforest canopy, along wild rivers, into the ocean and come face-to-face with animals living in the rich biodiversity of the Amazon rainforest – while experiencing the sensations of high speed and centrifugal force as the train rockets over the ups and downs along the tracks. In addition, several VR game zones will be set up to test your speed and strength in action-packed game challenges.
Ocean Park Christmas Sensation – Ocean Park x Pinkoi Christmas Market
During Christmas Sensation, Ocean Park will turn Waterfront Plaza into a romantic, festive Christmas village. Ocean Park x Pinkoi Festive Marketplace will showcase all kinds of original accessories and homeware by local designers, allowing you to look for unique gift inspirations.
Ocean Park Christmas Sensation 2017 Highlights
The Christmas village will feature Santa's Cottage where families can snap photos with Santa Claus at his magnificent house decorated with colourful mosaics. Next to Santa's Cottage, you can take selfies with the living statue and Christmas-themed topiaries at Garden of Romance.
As night falls, you should not miss out on the daily Light Up the Night ceremony at the gigantic 40-foot tall Christmas tree, which will be graced with an angelic choir performance every night for you and their loved ones to enjoy a romantic moment.
At Whiskers Harbour, kids can participate in the fun and interactive Whiskers and Friends Winter Games.
Ocean Park Christmas Sensation – Exquisite Christmas Feast
You should not miss out on the many delectable seasonal menus and dishes available throughout the Park during the festive period. Neptune's Restaurant and Tuxedos Restaurant have prepared lavish Christmas feasts for you to celebrate the joyous occasion. The Fantasy Christmas Lunch, available at Neptune's Restaurant, is the perfect dining option for you and your loved ones to indulge in a hearty Christmas lunch.
In the evening, Fantasy Christmas Dinner comes with Neptune's Special Lobster Spaghetti on top of the appetizer and soup. A selection of all-you-can-eat Christmas dessert cakes and ice cream will also be available.
At Tuxedos Restaurant, you can enjoy an all-day Delightful Christmas Feast that features a Christmas Cheese Baked Lobster made from sustainable seafood, served with chestnut-stuffed roasted turkey or beef tenderloin.
Both restaurants will offer the Ho Ho Ho Ocean Express kid's menu, featuring spinach cream sauce spaghetti and butter raisin cake, and two exclusive Christmas drinks: the sweet and refreshing fruit soda Winter Cool and the rich and aromatic Hazelnut Coffee.
Ocean Park Christmas Sensation – Park-wide Festive Treats to Enjoy On-the-go
A wide range of unique and tempting treats such as Christmas snacks will be available at the Park's food kiosks located in both The Waterfront and The Summit. To celebrate this year's Christmas Sensation highlight attraction, Mine Train presented by Samsung Gear VR, the food booth next to the ride, Mine Train Hot Dog, will offer a taste of international flavours. The cheese sausage hot dogs will be available with four different delicious sauces, including Japanese curry, Malaysian satay, cheese sauce and Mexican spicy sauce.
For an extra bite of festive cheer, Aqua City Bakery will serve Christmas ginger cookies, assorted Christmas icing cookies and many other traditional Christmas treats.
Other than Ocean Park, make sure you also check out  Christmas In The Air @ Harbour City: Santa Airships & 1st HK Drone Show in Hong Kong this festive period!