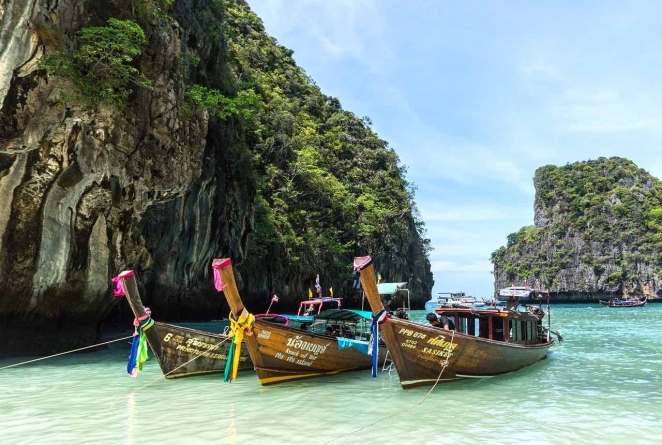 9 Things You Must Do On Your Phuket Beach Getaway Thailand
Located off the west coast of Thailand in the Andaman Sea, Phuket is the largest island in the kingdom and the perfect beach paradise for sun lovers. The Island of Phuket is filled with loads of attractions. Some are really not worth your time, but others, you absolutely must see for yourself. If this is your first trip to Phuket, here are our recommendations of the 9 things you must do on your Phuket Beach Getaway in Thailand.
1. Explore the beaches
There are loads of beaches in Phuket and it is probably the key reason why you visit this paradise in the first place. It is tough not to fall in love with the pristine blue water, white sandy shore and endless horizon. Remember to capture every precious second while you are there. Confused which beaches are worth the visit? Here is our simple Phuket beach guide for you:
a) Patong
With lots of restaurants and accommodations along this beach, Patong is the centre of everything fun and exciting in Phuket. You will never need to worry about where to head to for dinner or drinks and the beach is nice. Nightlife is vibrant in Patong, and party-goers will definitely have their share of bars, music and dance. If you are looking for excitement, definitely head to Patong. The only drawback we can think of is overcrowded beaches.
b) Karon
South of Patong beach and second biggest beach in town, Karon offers golden sand, clear waters and beautiful swaying palms. The downside is that the beach can be rough can the waves are high at times but this spells good news for surfers.
c) Kata
Kata is divided into Kata Centre and Kata South. The area is popular amongst families due to the presence of restaurants, shopping malls and convenience stores. The beaches (Kata Noi and Kata Yai) are quiet and beautiful, the perfect place for you to post some Instagram pictures! You can also expect a good number of surfers here.
d) Kamala
This beach is not as happening in terms of tourism hypes and activities when compared to the others. Relatively quiet and laid back with bamboo-hut-style restaurants. If you seek a local touch without the hoard of tourists, this is the place to be.
2. Enjoy Local Cuisine
To experience the local culture, it is important to taste and enjoy the local cuisine. Make sure to put these recommended local dishes and restaurants on your checklist:
Tom yam goong: Bang Pae Seafood restaurant, Ang Seafood restaurant
Massaman Curry: N.C. restaurant, Oriental Spoon restaurant
Green Curry Chicken: Kaab Gluay restaurant
Kanom Jeen Phuket: Khanom Jeen Mae Ting Shop, Pa Mai Kanom Jeen Restaurant
3. Massages
Massages are a must when you are in Thailand! You can get a massage almost anywhere in Phuket, from a beachside vendor to a high-end boutique, you get it all. Here's a list of the best massages on the island:
Atsumi Retreat Healing Center, Rawai
Santosa Wellness Center, Karon
Banyan Tree Spa Phuket, Cherngtalay
Kata Day Spa, Kata
Spa by Burasari, Patong
Breeze Spa at Amari Phuket, Patong
4. Visit Phuket Town
Other than the main beach areas, you should also check out the township at Phuket. While tourism has changed most of Phuket,  you will still be able to have a glimpse of how this coastal town used to be.
5. Visit the lively night Market
Similar to those that you see in Bangkok, Phuket also has its fair share of night markets. There are lots of things to see and the prices are very cheap. These night markets are the best spots to go for colourful souvenirs and street food:
Phuket Weekend Market, Chao Fa West Road, Phuket Town
Phuket Walking Street, Thalang Road, Phuket Town
Phuket Indy Market, Limelight Avenue, Dibuk Road, Phuket Town
Malin Plaza Patong, Prachanukhro Road, Patong
6. Check out Bangla Road in Patong
Bangla Road is an exciting, rowdy spot with lots of alcohol, neon-light night clubs, street vendors and transvestites. This place is not for everyone, but you need to see for yourself to find out if you like it or hate it.
7. Stay in your own private luxury villa
Why not make your stay ultra special with a luxury villa? There are plenty of villas in Phuket for all kinds of budget. You can also gather a sizeable group to split the cost and enjoy a villa at an amazing price.
8. Explore cultural attractions
Want to fit some cultural activities in your itinerary? There are plenty of temples, galleries and museums to check out in Phuket. While there are many temples on the island, the following 5 are not-to-be-missed:
Phuket Big Buddha
Wat Chalong
Wat Phranang Sang
Wat Srisoonthorn
Wat Tham Ta Pan
9. Check out Phuket Viewpoints
Other than the beaches, Phuket offers numerous viewpoints with captivating sights of the beautiful town. Gorgeous coastal sceneries, undisrupted vistas of the sun, the sky and the sea, mesmerising sunsets, these viewpoints just take your breath away. Take this silent moment to wind down, forget all about the rat race and just enjoy what life has to offer. Here are 5 of the best viewing spots:
Radar Hill
Windmill Viewpoint
Promthep Cape
Khao Rang Viewpoint
Karon Viewpoint
There is something for everyone in Phuket. We hope you find our recommendations useful. Do share with us your personal Phuket experience in the comments section below!