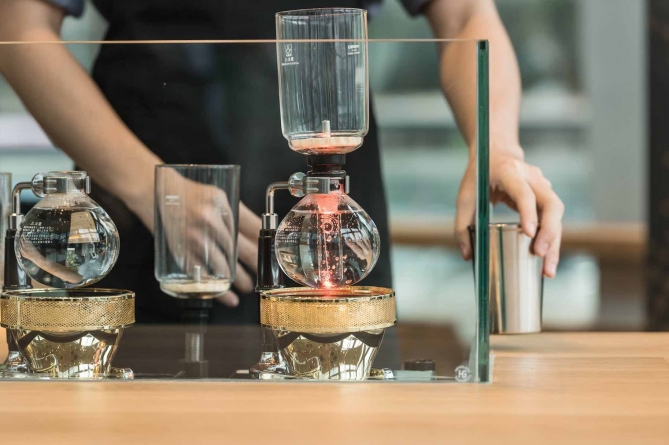 Starbucks Opens 1st Reserve Coffee Bar, United Square Singapore
Starbucks just announced the opening of its 1st 24 Hrs Starbucks ReserveTM Coffee Bar at United Square Singapore. Besides offering an immersive coffee bar that brings you closer to their coffee and Starbucks baristas than ever before, this brand new store will also debuts the state-of-the-art Black Eagle espresso machine and Nitro Cold Brew on tap. 
Featuring rare, small-lot Starbucks Reserve™ coffee beans roasted at its Starbucks Reserve™ Roastery in Seattle, the Reserve coffee bar gives baristas – all certified Coffee Masters a chance to engage with you over a variety of brewing methods: Siphon, Chemex, Pour-Over, Coffee Press and Black Eagle. In addition to the classic Starbucks menu, the store will also feature specialty beverages that showcase Starbucks Reserve™ coffees: Reserve Americano, Reserve Latte, Reserve Cappuccino, Reserve Cortado, Reserve Espresso and Reserve Espresso Macchiato.
At the store, you can sample exceptional coffees from around the world. In the hands of Starbucks skilled baristas, the Black Eagle espresso machine delivers a smooth quality and consistent taste profile. Starbucks Reserve beans are only available in limited quantities. Updated seasonally, you will be able to experience different tastes and coffee origins with their usual beverages – be it a Reserve Latte or Reserve Cappuccino.
"As we celebrate our 20th year in Singapore, we wanted to create a cutting-edge store that showcases Starbucks heritage in sourcing, roasting and serving our premium coffees. Since we opened our first local store in 1996, we have been committed to providing our customers with exceptional coffee experiences. Today, the Starbucks ReserveTM Coffee Bar lets the craft of coffee take centre stage and we hope it invites a deep exploration of coffee by customers," said Murray Darling, managing director, Starbucks Singapore.  
Taste Starbucks Cold Brew & Nitro Cold Brew
Following the successful nationwide launch of Starbucks Cold Brew in 2016, the United Square store will debut Nitro Cold Brew. Nitro Cold Brew takes the existing Starbucks Cold Brew recipe to the next level, infusing it with nitrogen to unlock the super-smooth, natural sweetness of the coffee. Served from the tap, the Nitro Cold Brew's velvety and creamy texture is deliciously cold and served unsweetened, without ice, to highlight the flavour the cold-brewing process brings out in the coffee.
Perfect for You to Discover Coffee & Connect with Loved Ones
The new United Square store is housed in a contemporary glass structure overlooking Thomson Road. The design concept is layered from ceiling to floor, creating a visual story about the coffee journey from bean to cup. The artwork pays homage to the origins of coffee and coffee farming with a sustainably sourced natural bamboo installation, a swirling bamboo ceiling that simulates coffee aroma.
The United Square store allows for the best of both worlds for you and has been designed to marry the third place experience with the all-new Reserve experience. The highlight of the store is the ReserveTM Coffee Bar, which has been designed as an interactive space where baristas can bring the craft of coffee to life through Starbucks various brewing techniques. In addition, you will be able to order from the full menu, including Starbucks signature beverages.
Like other Starbucks ReserveTMstores, a Starbucks Coffee Master will be available to introduce and educate you on the preparation methods of four manual brewing methods: Coffee Press, Pour-Over, Siphon and Chemex.Open 24 hours daily, the store is located at United Square, 101 Thomson Road, Singapore 307591. You can also check out the informative infographics below.